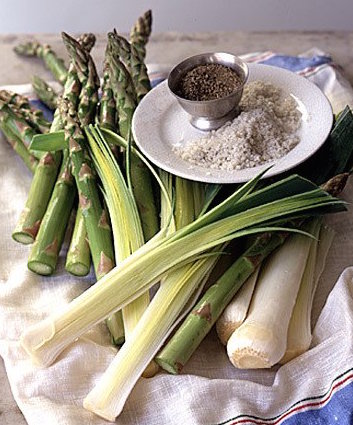 Oh, hello spring! I've been waiting for you!
The days are getting longer, there's more light, and the air is bright and fresh with vibrant colors and the scent of new flowers.
I just feel better with the coming of spring. After being inside all winter, enduring the cold, gray days, I just want to jump for joy at the first gasp of spring.   I just love to get out and be in the warmth and sunshine. I went out for a long walk at lunchtime today, and noticed a little skip in my step!
Even though the weather is warming up, springtime doesn't mean the end of delicious soups. In fact, some of my very favorite soups are eaten in the spring.
I love soup. I could probably eat some kind of soup every day. In the winter, it's thick, heavy, stick-to-your-ribs stews. In the summer, it's chilled gazpachos and other cold soups. In the fall, it's hearty and harvesty soups.
And in the spring, it's light, flavorful soups that nourish you, but don't weigh you down.
And a soup chock full of seasonal springtime foods is one of the best ways you can make sure your body gets what she needs, for your overall health as well as your fertility.
Eating soup is a great way to be in tune with your body during your menstrual cycle. One of the best times to eat soup is during your luteal phase – that time after ovulation when, if you conceived, a fertilized egg becomes an embryo and implants into the lining of your uterus.
During this phase it's very important to stay warm to keep healthy progesterone levels in your body. Progesterone's most important role is to get your uterus ready to receive an embryo, and it's the dominant hormone during the luteal phase.
Elevated body temperatures are characteristic of this progesterone dominance – not so much that you feel flush or ferverish! It's slight, but important in getting your uterus ready to sustain new life.
Eating warming foods like soup helps keep your body temperature and progesterone up so that it can fulfill this important role. Warm soup is also comforting food, so enjoy it as much as you'd like!
Eating seasonal foods helps to support our body's natural ability to clean and heal herself. Seasonal foods are picked at the peak of freshness and are more nutritious than out-of-season foods that aren't ripe. So, it's healthier for you.
Plus, when you eat what's in season, you're naturally shopping local and supporting local farmers. Why eat something that's in season in a location thousands of miles from you that appeared in your grocery store after days on a truck, when you can eat something from your local farmers market that was picked that morning.
The food tastes better, too!
So during spring, get your fill of the fresh fruits and vegetables that abound during this joyful season. Leafy green vegetables ubiquitous in spring help clean and detoxify our liver. They're also a wonderful source of folate, which is so vital when trying to conceive as it helps prevent neural tube defects in an embryo.
Here's a delicious soup to grace your dinner table this spring. It's warming, nourishing, and full of ingredients to boost your fertility.
Spring Leek and Asparagus Soup
1 Tbsp extra virgin olive oil
2 large leeks, white and tender green parts only, sliced
1 carrot, chopped
1 small bunch thin asparagus, chopped (about 1 ½ cups)
1 can white beans (such as Great Northern, Navy or Cannellini), with liquid
1 carton (4 cups) vegetable broth
sea salt to taste
Directions:
Heat olive oil in large pot over medium heat. Add leeks and ½ tsp salt. Reduce heat to medium-low and cook until leeks are tender, 4-5 minutes.
Add asparagus, carrot, beans with liquid, and broth. Bring to a simmer, cover and cook until asparagus is tender, about 7-8 minutes. Season with sea salt to taste.
To your health and fertility,
Stephanie xo