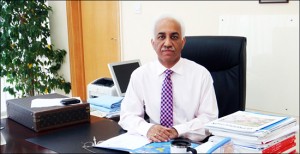 Dr. Pankaj Shrivastav is the Director of Conceive Fertility Hospital. A highly experienced physician and a pioneer in the field of Reproductive Medicine, Dr. Shrivastav has devoted his professional life to helping couples achieve their dreams of becoming parents. His mantra "Let's make you a family!" has become the Mission Statement of the entire team at Conceive.
Dr. Shrivastav started his medical career at the Christian Medical College (CMC) in Vellore, South India. Here, he first obtained his M.B.B.S. degree after which he obtained a Diploma in Obstetrics & Gynaecology (DGO) and his M.D. degree. At the same time, Dr. Shrivastav joined the CMC faculty where he was appointed lecturer. Later he went on to become a Junior Consultant in Obstetrics and Gynaecology. It was during his time as lecturer where he first developed a passion for teaching and training budding medics. Little did he know, this was just the beginning of his career as an academic.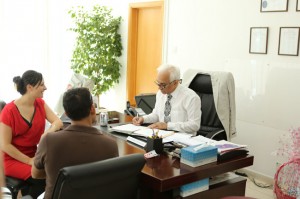 In 1987, Dr. Shrivastav moved to the United Kingdom where he began a Research Fellowship at the Royal Free Hospital of London. Later that year, he began his training in Fertility Medicine at the Humana Wellington Hospital of London under the tutelage of one of the Fathers of Fertility Medicine – Prof. Ian Craft. This was a turning point in Dr. Shrivastav's career and from then on he devoted his professional life to helping infertile couple.
In 1990 Dr. Shrivastav returned to CMC, Vellore to teach at the alma mater. He was keen to impart the knowledge and experience he'd gained from London to his juniors. At the time, Fertility Medicine was still very young and the personnel trained in the field was less. In 1990, the Government of Dubai invited Dr. Shrivastav as part of a team to establish U.A.E.'s first ever Fertility Unit in Dubai. And so it was, in 1991 Dr. Shrivastav arrived in Dubai and set up Dubai Gynaecology and Fertility Centre (DGFC) where he served as Deputy Director and Director for the next 13 years.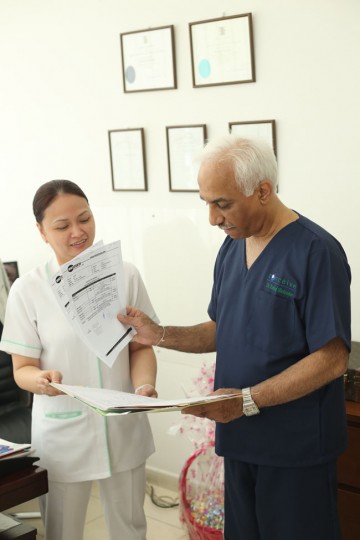 During his time at DGFC, Dr. Shrivastav reached several wonderful milestones. The centre celebrated the birth of its first IVF babies as early as July 1992 and subsequently, DGFC was responsible for the creation of over 2000 babies during his 12 year stint. Along with his work as a physician, Dr. Shrivastav was actively involved in research. Dr. Shrivastav devised several new techniques and his contributions to the field of Fertility Medicine include pioneering work in Ovarian Hyperstimulation and Surgical Retrieval of Sperm (PESA and TeSA). The first babies born as a result of PESA were born to an Emirati couple from Sharjah, U.A.E. in 1994. Both PESA and TeSA are now routine techniques carried out in fertility units world over.  In 2001, Dr. Shrivastav was awarded a Fellowship from The Royal College of London in Obstetrics and Gynaecology (FRCOG).
It was then that Dr. Shrivastav set out to establish his own private unit in an attempt to continue providing quality treatment and uphold his mantra – "Let's make you a family!"  And so on July 7th 2004, Conceive Gynaecology and Fertility Hospital was born and since then (June 2014) it has been responsible for the birth of over 2500 babies. Conceive receives patients from across the globe including USA, UK, Australia, India, Pakistan, Japan, Mayotte, Indonesia, China, New Zealand, Chile, Mauritius, Bahrain, Saudi Arabia and countries in the African and European continent.
Even today, Dr. Shrivastav is actively involved in a variety of research. His latest and most noteworthy contribution is in a research undertaken by Prof. Marcia Inhorn from Yale University in the field of Anthropology. Not having given up on his passion for teaching, Dr. Shrivastav trains numerous junior physicians in the field of Reproductive Medicine, imparting his expertise and experience on a daily basis. In particular, he has a soft spot for young medical students and welcomes them to spend a day shadowing his work at Conceive. Over the years Dr. Shrivastav has conducted numerous workshops and seminars across the Middle East in an attempt to arm those interested in the field with the necessary skills. He has also lectured and presented research papers at both a National and International platform. Further he has published chapters on the topics of Fertility Medicine and Ultrasound Usage in several books.
Dr. Shrivastav is an active and prominent member of several international associations and regularly attends and speaks at international conferences, the most noteworthy being the European Society of Human Reproduction and Embryology (ESHRE) and American Society of Reproductive Medicine (ASRM). His contribution to the field of Reproductive Medicine is not only outstanding excellence but also incredibly inspiring. He has received numerous awards for his work and in January 2007, India honored him with the "Hind Rattan" Award (Jewel of India) for his contribution as a physician and for the pride he has brought as a result of it to the country.
Despite having achieved so much in his professional career, Dr. Pankaj Shrivastav continues to be completely and passionately committed to his mantra. He is devoted to fulfilling the dreams that couples world over have – becoming parents and becoming a family!