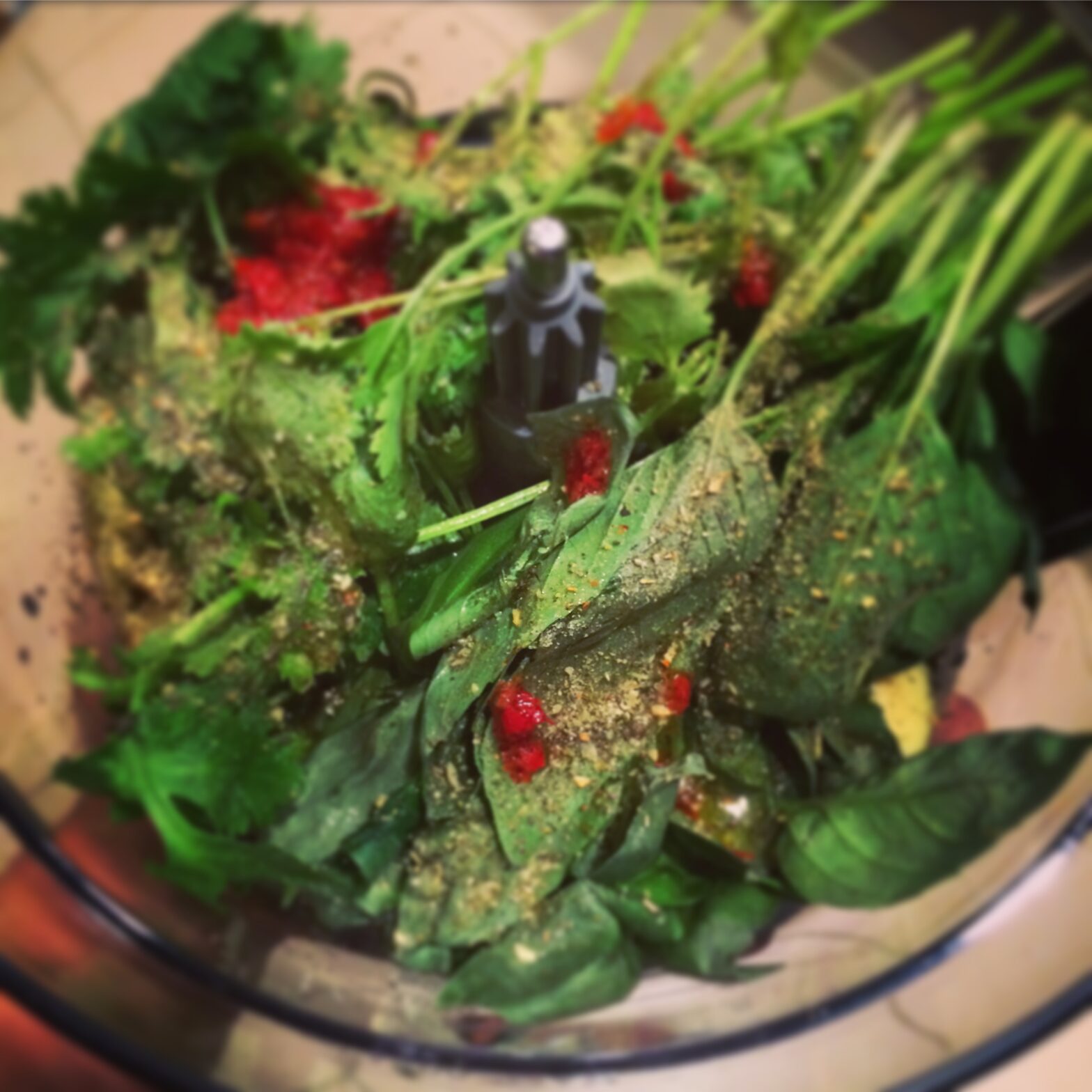 Work work workOUT work work TRAIN work work STUDY – such is life for very many today with of course a few nights out and movies (ok maybe more than a few). 'Quick' & 'easy' govern practically every aspect of my life and my time management skills are being tested to the max. Just not enough hours in a day !
By the time it's dinner time I am ravenous, famished, starving … you get the idea. I can wolf down anything edible in my path and YES I'll admit to having demolished half a jar of peanut butter in these desperate moments of extreme hunger. But …
"Must eat clean. Must be nutritious. Must eat healthy!" has found its way into my mind's chants and this modified recipe for homemade pesto ticks all the boxes including 'SO GOOOOOD' !
Pros : Free of chemicals/preservatives/additives and dairy-free !
You will need :
The flesh of 2 avocados (scooping this out with a teaspoon is indescribably satisfying. Just saying!)
the juice of half a lemon
1/2 cup fresh basil leaves
1/4 cup fresh coriander
tiny handful of pine nuts (if you can be bothered to toast them for a few minutes then do because the enhancement of the flavour is incredible)
2 tbsp of extra virgin olive oil
1 tbsp of garlic-herb seasoning (this is available in most supermarkets. If not then use 2 tsp garlic paste and add in some thyme seasoning)
1 tbsp of rosemary & olive seasoning (again available in most supermarkets and if not then use 2 sprigs of rosemary and a 4-5 green olives)
red chilli paste or red chilli flakes depending upon your palate. I like mine with a bit of heat so I added 2 tsp worth. You may even add a green chilli if you like. De-seed it if you can't take the heat entirely.
salt and pepper to season as per taste
To make :
Cook your pasta as per instructions. To ensure your meal is ultra-healthy opt for wholewheat or gluten-free pasta. There's even an option of quinoa pasta to up the protein content of your meal. I used brown wholewheat pasta and boiled some frozen vegetables with it. Frozen vegetables are a blessing when you want to cook and eat in under 10 minutes and cannot be bothered to chop veggies and be faced with a ton of washing-up after.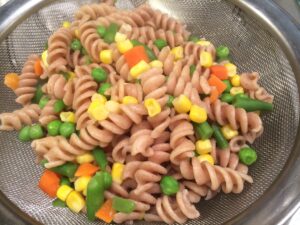 In a food processor, throw in all the ingredients listed. Quite literally throw them in and BLITZ ! Takes a few minutes. To ensure a smoother paste add a tablespoon or two of the starch water from the pasta into the processed paste. I like my pesto with a hint of texture and so mine looked like this …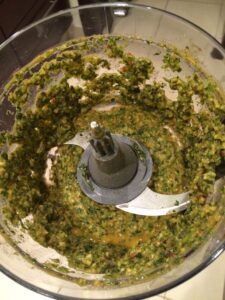 Over a low flame, toss the pasta, vegetables and pesto in a pan for 2-3 minutes until fully coated and warmed through. How much pesto you add depends on how coated you like your pasta to be. I'd say 2-3 tbsp would suffice if you're dining alone.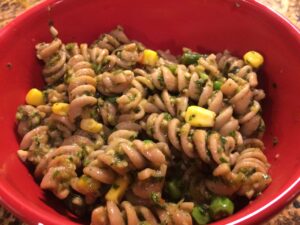 One word – EAT ! 🙂