Three eggs are better than none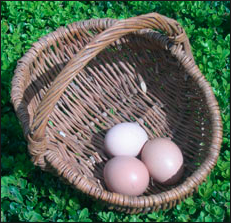 Cheers, dear readers,
Given the difficulty of going through diagnosis and subsequent treatment, in some respects, in vitro fertilization (IVF) children are some of the most wanted children on the planet. Anyone who has gone through IVF to have a child is a courageous and determined person. IVF gives many couples faced with a diagnosis of the disease of infertility a chance to have their dream of biological parenthood come true. It is a miracle in my opinion that medical science has found a way to make this happen for these couples.
BUT what about all of the couples where IVF is not successful… what happens to them? How do they cope? What are the emotional ramifications of being courageous and determined in family creation, but the whole ordeal is a failure anyway? What support and grief counseling are they offered or given by loved ones?
Last I left you on our chronological journey of infertility, our dear doctor had retrieved five eggs, and the embryologist was going through the fertilization process. It is so completely odd to think that natural child creation happens with both of the parents being physically present, in the act of love making, creating a human life with the bond of their love, in the physical union of their bodies in a beautiful act. Yet with IVF, neither parent is present for the moment of conception. The embryologist is in a lab, doing his or her medical magic, while the parents are elsewhere out in the world. How odd, when you really think of it… How unnatural… I had some trouble wrapping my head around it, but if we wanted our own children, this was one of very few paths we could walk if we had any hope of success.
When Eric and I left the fertility clinic, after my egg retrieval and his sperm donation, I thought to myself "it is out of our hands now." How strange. I didn't quite know how to feel, though I did possibly feel a bit of relief… we had done all we could do. Now, we let fate… and science determine the future of our family.
To busy my mind, I went to an outdoor festival with a friend while Eric was spending the day at his Saturday martial arts classes – his chosen hobby which served as a great distraction on this particular day. Otherwise, we would have both crawled out of our skin staring at the walls and each other waiting to hear the latest news about our IVF journey. It was somewhat comforting being surrounded by hundreds of strangers at a festival with music, yummy treats, revelers of all ages, and all types of family configurations, including lots of small children. It gave me hope, and helped me to smile.
Then the call came on my cell phone.
It was the doctor's office.
I held my breath, and answered the call. It was the nurse. It was funny to me that someone I had never spoken to before or met was about to tell me news that would affect my entire future…
In a matter of fact tone, she let me know that two of my eggs were not mature enough to be of use, but that three eggs did fertilize with Eric's sperm. We had three hopeful fertilized eggs! If they survived, implantation of one or possibly two would happen shortly! It was a completely surreal moment, and it was extremely difficult that Eric was not with me when I got the call. (We really had no idea when they would call).
Totally. Surreal. Experience.
And an experience that so few ever have to go through. I was excited, but who could I share that news with? This was all on a wing and a prayer that one or more of the fertilized eggs made it alive to implantation day. We had three potential children in a petri dish in a medical office in Arlington, VA. How flipping weird.
There is nothing in my opinion more miraculous than the creation of a child. It would be momentous and beneficial if we could find ways to bring reverence into this process called IVF, which is really an assisted conception with a large cast of characters, all working together. I wonder how that can be achieved, and how we can better emotionally support the couple going through this challenging and often misunderstood event? I welcome your thoughts, dear readers. And I wish you the very best on your journey.
Please join me next week to hear more about my personal journey down the infertility path. I look forward to speaking with you. And I wish you the best on your journey.
Warm regards,
Cathy
Know more about Infertility specialist in Dubai | Infertility treatment in Dubai | Ivf centers in Dubai