Thoughts for Valentine's Day through IVF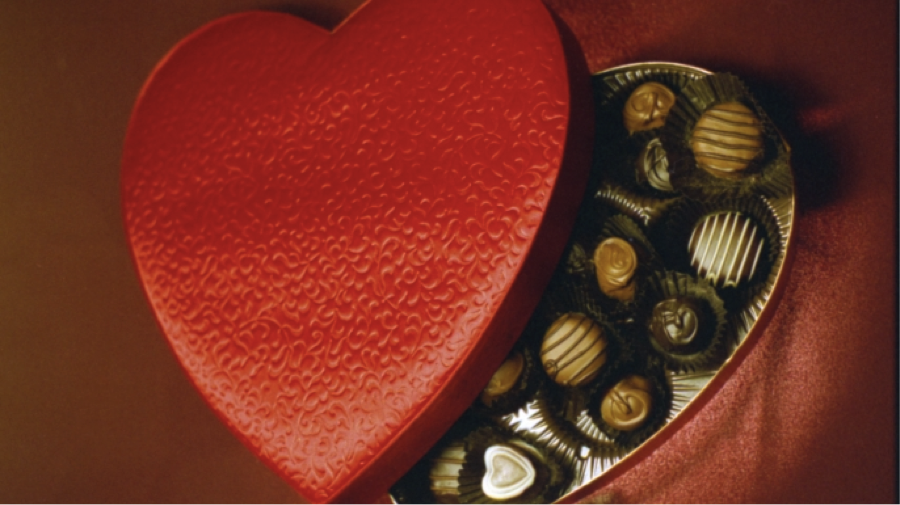 Howdy, Internets! Eric here this week, and thinking about relationships, kids and family on this grey and rainy St. Valentine's Day.
Now this is a totally fraught subject, because there are probably some of you out there (and possibly one in my own house) who love the chocolates and hearts and stuffed animals and mushy affirmations of affection. There are also probably some others of you out there (and possibly one in my own house) grumbling, "Humbug! A nonsense holiday invented by greeting card companies to keep the till ringing through the winter!"
(Please note for the record that I do not specify which of us is which. In fact, it is just theoretically possible that one of us would be the one shouting "Humbug!" if I… errr… that person…. weren't too busy eating these delicious chocolates. But I digress…)
So, while hoping to avoid too much backlash over partisan divisions around heart-shaped candies and hallmark cards, I actually thought a lot today about relationships, romance and infertility. For Cathy and I this is our thirteenth Valentine's Day together and our tenth as husband and wife. As I look back over the ups and downs, the hope and heartbreak of our efforts to have a family and our relationship now, I realized that, whatever else, Cathy and I have managed to do a couple of things right, things I think it would be easy to lose sight of.
So for what it's worth, on this (yes, entirely made up) holiday celebrating romance, I thought I'd share three things I've learned that have helped keep our relationship strong, loving and even romantic during some of those challenging days. These may sound obvious or simple in the telling, but they really did make a difference for me.
You're trying to create a new or bigger family. Don't lose sight of the one you already have.
When you're struggling with infertility, it's terribly easy to let this new person, the one you're hoping for, the one you're aching for, the new one you're trying to make, consume your attention, your energy and take up all you have to give. Don't.
Never forget that making that kid, raising that kid, and living out your life after that kid grows up and moves away are all built on the relationship with your partner in this adventure. Your spouse is, and needs to be, the person you remember, the one you look to but also give back to, the one you don't take for granted.
When all you can do is struggle and hope and work toward that child, it's too simple to forget the one you chose to live with first, the partner you committed to go through all this with, and many other things before and to come.
The same is true if you already have children. Don't forget to make sure they know that your desire for, and focus on, a new addition does not mean you're not focused on, and grateful for, them too.
It doesn't take much. A look, a few kind words, one brief hug, a genuine "thank you". Heck, even one of those cheeseball Hallmark cards I was talking about. It takes little time, little effort, costs nothing… and can mean everything. Do NOT forget to notice, forget to take care of, forget to say so. On such small, memorable things are built the shelters that safeguard our relationships through the stormy days. You know how much that critical relationship means. Don't forget to say so.
When it's hardest to remember the joy and the love is exactly when you need to do it most.
I won't lie. There were some days during our treatment that were not just hard on us, they were hard between us. The stress, the hormones, the shots, the expenses and worry and uncertainty and fear, well, let's just say they are unlikely to make either of you "your best selves" on some of those tough days. It happens. We all have our bad days, out of exhaustion or frustration or sadness. We're not as kind or charitable or supportive as we probably should be. We can be brusque, selfish, neglectful or cold.
Here's what I learned on those days – when your partner is at their worst, their most unkind, there most self-absorbed or uncommunicative, that is exactly when you have to ignore those very things and remember the deeper reasons why you're together. It's counter-intuitive, but on the days when our struggles made Cathy act her worst was when I would say to myself, "Love her harder than ever." And when I was a total insensitive and unforgivable boor was exactly when Cathy told me she loved me, instead of "go sleep in the garage!" which I'm sure is what I actually deserved.
If someone I love and admire and respect that much was being beastly, I didn't get upset with her, I remembered just how hard it must be feeling what she was feeling for someone so awesome to behave so out of character. The times when it felt hardest to say, "wow, you're awesome" was exactly the time when that was the most important thing to do.
Guys – Rub her feet.
No, seriously. I don't know if it's the shoes they wear or the way they walk or whether it's just where many women carry their stress (mine is in my shoulders), but I have never met a woman who did not feel dramatically better after a good foot rub.
Whether she's at her wits' end from stress and struggle, or because YOU are being beastly as I described above, you can always strengthen your relationship during the challenges of infertility with a show of support and empathy. I am totally serious about this. Try it just one time, see what happens.
Points fellas. Major points.   (But in a pinch, I hear those cheesy cards and heart-shaped chocolates work too.) J
Happy Valentine's Day, all!
– eric