Nuprolla Oats (Nutella-Protein)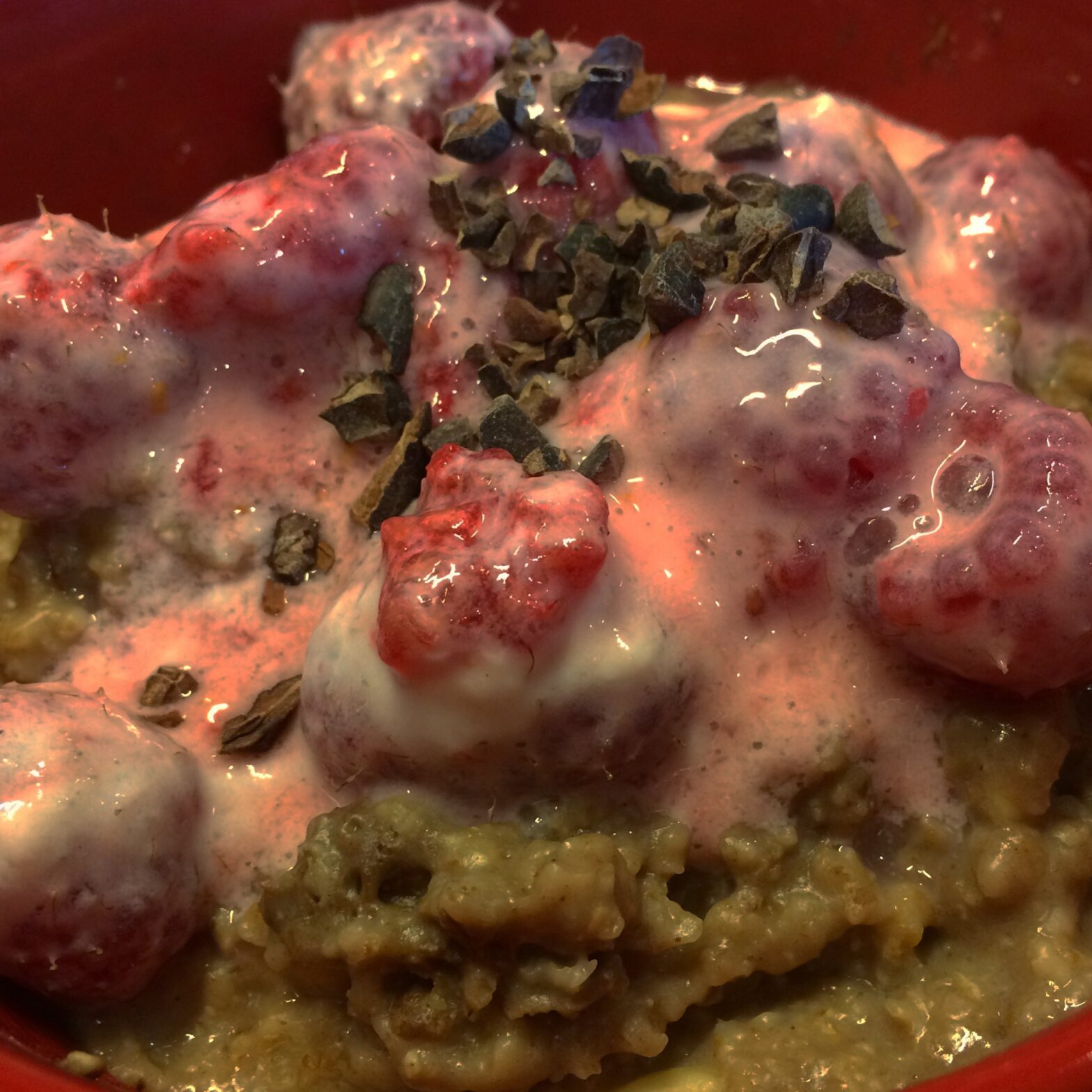 Because sometimes you just want something gooey and warm and CHOCOLATEY ! No ifs, no buts, no excuses and alternatives.
Believe you me these nutella flavoured oats with the raspberry sauce hits the spot right where you want them to! B-E-A-UUUUUU-T-I-FULLY 🙂
And breakfast for lunch/dinner? Hell yeah !
But I can't claim all the credit for the flavours – shoutout to a dear old friend back in not-so-sunny Wales (UK) who in the most endearing manner insisted my next recipe involve chocolate and raspberries. So Dr. Lucy Jenkins, I hope you enjoy these as much as I do 😉
Pros : Packing in close to 40g of protein, less than 4g of natural sugars per serving and rich in Omega 3s and 6s. And it's CHOCOLATEY! And GOOEY!
You will need :
3/4 cup of rolled oats
1 scoop of choice chocolate protein powder (I use the Smart Fitness Athlete brand because its all-natural, low in whey content and low cal)
10-12 crushed hazelnuts which have been toasted in a frying pan (toast till they scent)
a small handful of fresh raspberries
2 tablespoons of low fat greek yoghurt
1/2 tsp of lucuma powder (this has a gorgeous caramel-y flavour)
1/4 cup of almond milk (make sure it's unsweetened)
water
cacao nibs to sprinkle on top
To make :
I'm not patient enough to cook oats over a stove but if you are then please do. For me, it's my trusty microwave.
In a bowl, mix the dry ingredients of oats, chocolate protein powder and crushed toasted hazelnuts. Pour in the almond milk and then add water to ensure the bowl's contents are completely submerged. Stir to mix well. Microwave cook !
Whilst your oats cook, in a blender throw in a few of the raspberries, the lucuma powder and the yoghurt. Blend to a pink yoghurt mixture. Keep some raspberries whole to adorn over the oats.
Once the oats are cooked, pour over them the raspberry yoghurt sauce.
Adorn with the remaining raspberries and cacao nibs.
Dare : try not to gobble down 😉