Stop the urge to fix anything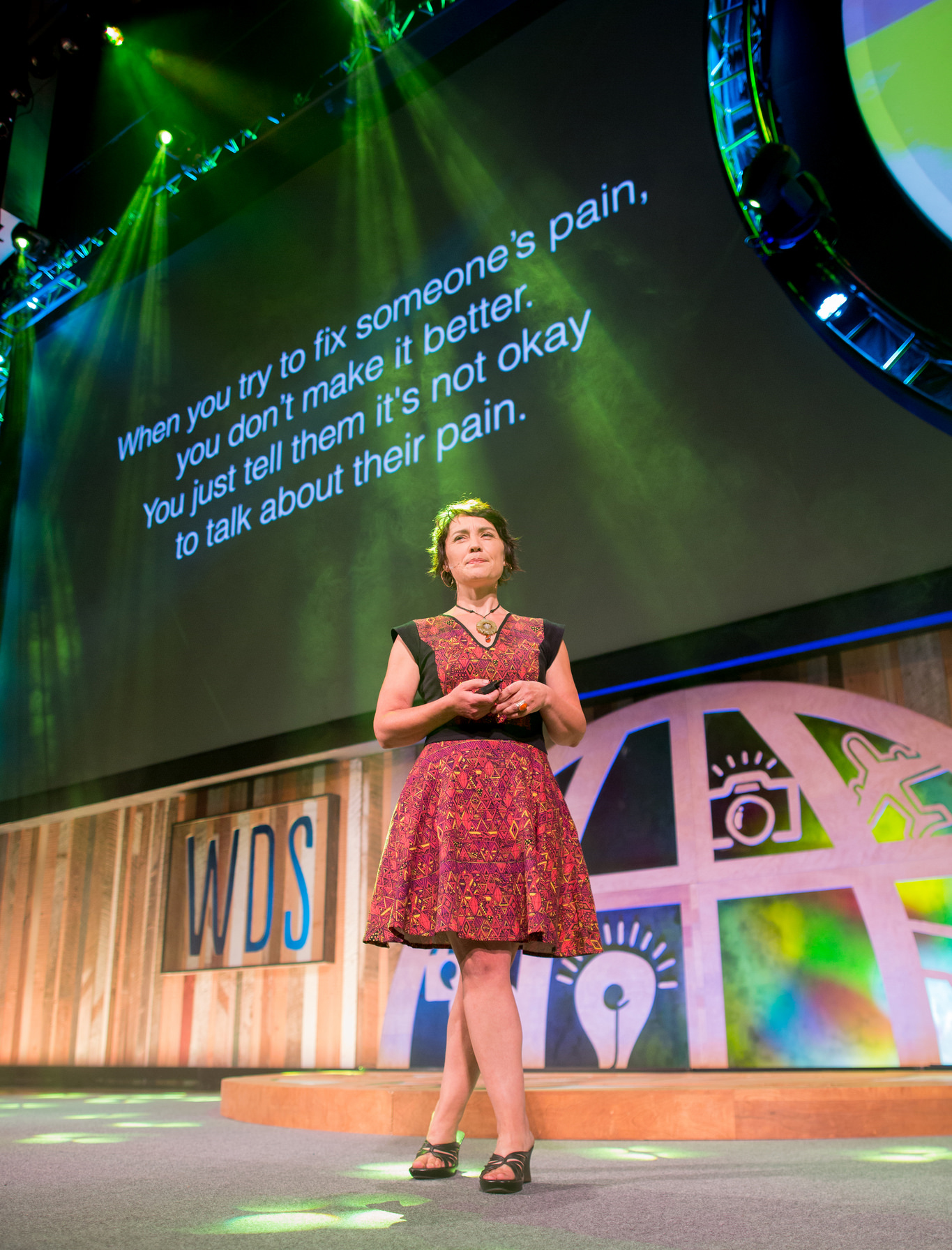 Cheers, dear readers,
I recently had the awesome and amazing experience of attending what is called the World Domination Summit (WDS) in Portland, Oregon in the United States. WDS is an incredible experience that is built on the three tenets of Service, Community and Adventure as their main mission. Throughout the weekend, together we discovered answers, possibilities and opportunities exploring the question of: How do we live a remarkable life in a conventional world?
Here at Slow Swimmers & Fried Eggs, we definitely value the concepts of community and service as presented by these blog posts serving to offer guidance, support, advice and words of healing when needed. The power of community during difficult times cannot be underestimated. Community and healing can very much go hand in hand.
I would like to highlight one of the speakers at the conference, Megan Devine of refugeingrief.com. In our infertility journeys, there are experiences that can present feelings of loss, grief and sadness that can bring us to our knees (miscarriage, another failed IVF attempt, unfertilized eggs, canceled implantation days, etc). Sometimes our friends and family do not know how to support us in these times, as the grief from infertility can often be difficult for others to see and recognize, and thus the helping hands that we need just aren't there.
Megan Devine knows grief through the loss of her husband in mid-life – a traumatic early death that no one saw coming. At WDS, I learned "Megan is the author of the audio book, When Everything Is Not Okay: Practices to Help You Stay in Your Heart & Not Lose Your Mind. She writes, speaks, and teaches on out-of-order death and how we withstand suffering that cannot be fixed. Megan is known for her practical, no-nonsense approach to grief, and for her fierce love of her readers and students. Sharing her personal story, Megan has an extraordinary ability to speak vulnerably, exploring grief and the spectrum of love." I was honored to hear her presentation on such a sensitive topic that touched me deeply.
Here is a summary of what she taught the attendees at WDS 2015 about surviving grief, as well as how to support others during difficult times…
Megan points out that often, we try to "fix" other's grief instead of just quietly listening, absorbing and practicing true empathy. "We need to tell new stories of how to withstand grief, not fix it or overcome it. Pain deserves acknowledgement, not repair. When you try to fix someone's pain, you don't make it better – you just tell them it's not okay to talk about their pain." To equate this easily to infertility, when we are told "Just Adopt", it makes our pain not ok, and diminishes the validity of our feelings of grief and sadness, thus making it even more difficult to work through the pain.
Megan goes on to say: "The path to bear witness is the true path to love. There are things that can't be fixed and that's OK. It takes courage to listen. Just BE there. We can love each other in the middle of deep adversity – that's when we're most called to love… and to courage. Together we knit a story of survival of grief that can never be fixed. And there we tell the truth."
Here are some guidelines that she offers about witnessing someone else's pain and how to be the most compassionate person possible in those moments to help answer the question: How do we live with what cannot be fixed?
1) Notice: Your impulse to help. Remember you may think that you are trying to be "nice" and helpful, but trying to "fix" can do just the opposite.
2) Pause: What response is called for? Just listen. Let someone tell their own truth.
3) Don't fix: Stop the urge to fix anything.
4) Bearing witness: Make space for someone else's pain. Acknowledge it.
Remember: Conversations about grief are really conservations about LOVE. Stop and listen with an open heart and an open mind.
There is power in acknowledgement of pain that will never be erased – parts that will never heal. Practice intense forms of love and bravery in a world where things go wrong. Listen for pain (it hides). Allowing someone to see your pain is a gift. Acknowledge that gift. And lastly, remember that love is the only thing that lasts.
Please join me next week to hear more about my personal journey down the infertility path. I look forward to speaking with you. And I wish you the best on your journey.
Warm regards,
Cathy
PHOTO CREDIT : Armosa Studios