Practicing Empathy Through Gift Cards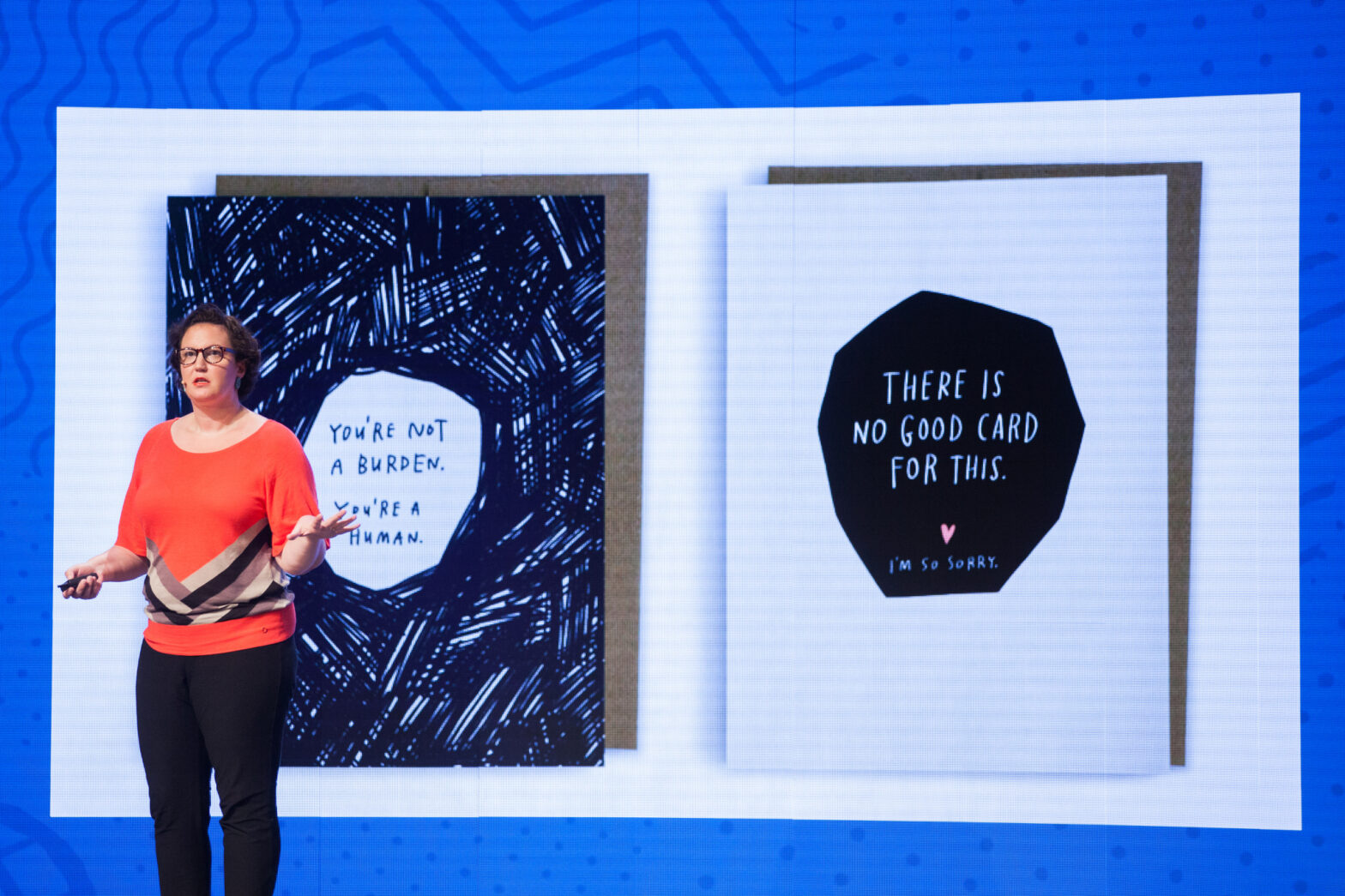 Cheers, dear readers,
Ever feel like you can't find the right greeting card with the right message for the right situation?
Recently I had the good fortune to hear the incredibly talented, smart, and inspiring Emily McDowell speak at the World Domination Summit conference in Portland, Oregon – a conference that focuses on "living a remarkable life in a conventional world". I had no idea that hearing this lovely women speak at this fantastic conference would have such a huge impact on me. I was blown away by how she seemed to be speaking directly to my soul and to a need I didn't even know I had.
Don't know Emily? Neither did I. Here's a brief bio:
"Emily is a writer, illustrator, and entrepreneur who specializes in chronicling the human condition. In 2012, she left a successful career in advertising to launch her greeting card line, making cards for the relationships we actually have. Now a multimillion-dollar stationery and gift company, Emily McDowell Studio products are sold online and in nearly 2,000 stores worldwide. In 2015, Emily's Empathy Cards, designed to help people connect around serious illness and loss, struck a nerve around the world. Her first book, There Is No Good Card For This: What To Say and Do When Life Gets Scary, Awful, and Unfair To People You Love, will be released in January 2017."
I'll be honest: I wish I came up with this idea! You go, girl! I'm so proud of you and am happy to cheer you and your success and insightful wisdom to fill a need in the world on. Emily is a cancer survivor you see, and she felt she had a unique gift in being a "cancer translator" for others who didn't know what to say to loved ones when a serious illness or trauma befell them. In her experiences studying the human condition during the course of her life, she noticed two things about living through difficult situations:
People want to help but don't have the tools.
Being in the position of the person with the illness or trauma is often very lonely and scary.
With her unique gift of understanding and being a "translator" for scary situations, loss, and illness, she created her Empathy Card Line. So many of her cards are totally applicable for someone going through the struggles and isolating feelings of infertility. Here are just a few:
EVERYTHING HAPPENS EMPATHY™ CARD
The card reads: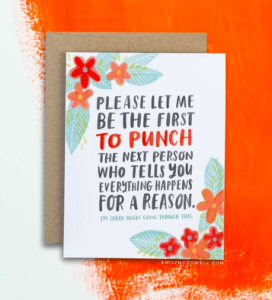 Please let me be the first to punch the next person who tells you everything happens for a reason. I'm sorry you're going through this.
When a bad thing happens, like cancer or death (or infertility!), the last thing the person going through it wants to hear is "everything happens for a reason." Maybe eventually, with time and distance, this becomes more appropriate. But not immediately.
Giving someone this card lets them know you're in their corner. You might not know what it feels like to be in their shoes, but you know when to be irritated on their behalf. And that will mean a lot.
AWKWARD SYMPATHY CARD
Here's something to say when you don't know what to say. The card reads: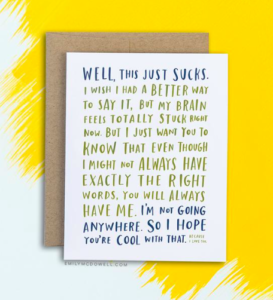 Well, this just sucks. I wish I had a better way to say it, but my brain feels totally stuck right now. But I just want you to know that even though I might not always have exactly the right words, you will always have me. I'm not going anywhere. So I hope you're cool with that. Because I love you.
I DIDN'T KNOW WHAT TO SAY EMPATHY™ CARD
The card reads: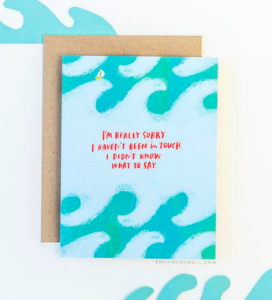 I'm really sorry I haven't been in touch. I didn't know what to say.
When someone you love gets sick, it's really natural to get scared and uncomfortable and not know what to say. It's happened to all of us. You want to reach out, but you don't have the right words, and then time passes, and then it feels even worse and more awkward because it feels like it's been too long.
This card can help. A heartfelt apology and an honest explanation really can go a long way.
Seriously. Wow. Where were these cards when Eric and I were going through the worst of our infertility struggles? The main part of our struggle was over the course of about two years (from when we started trying to create our own family, to testing and treatment, to the difficult decisions to stop treatment and whether to adopt or not, to the various stages of grief and loss, which honestly still plague us to this day). Infertility is still a part of who we are, part of the fabric of our life story, and affects the rest of our lives as we watch all of our friends raise and parent their children. Some of my relationships with my mommy friends are forever changed, completely different and often strained. As an infertility survivor, not only are you dealing with the loss of your unborn children, you are also dealing with the loss of friendships that you thought you could count on. So it's isolation and loneliness times two. I can tell you first-hand, that is a big bummer.
Thank goodness for people like Emily McDowell who not only practice empathy and connection, but who use their unique gifts to foster understanding, compassion and love for people who are going through incredibly difficult situations and the people who not only love them, but don't want to abandon them. Thank you, Emily! You are such a rock star, an incredible talent, and someone whom I truly admire for creating something in the world that we really needed. I plan on buying some of your cards to have on hand when difficulty strikes someone I love dearly, so that they can feel my warm embrace whenever they read it. What a gift.
Please join me next week to hear more about my personal journey down the infertility path. I look forward to speaking with you. I wish you the best on your journey.
Warm regards,
Cathy