The Permission of the "And" TedX Talk on Infertility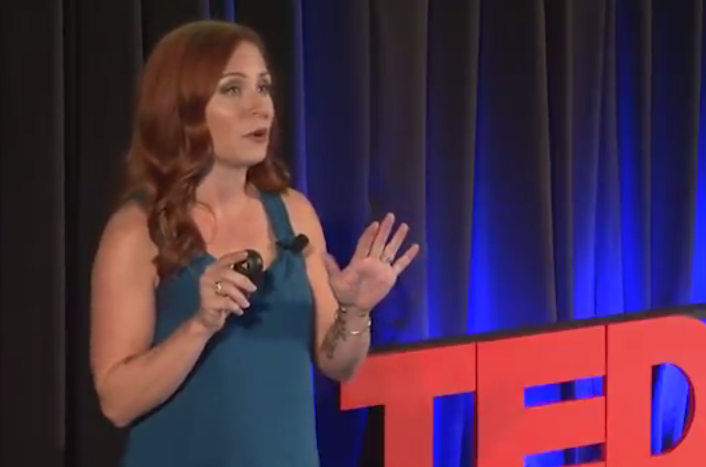 Cheers, dear readers,
Happy New Year to you all! You have heard me say it here before but it is worth saying again. There is much healing power in the power of community. Thanks to the Global Sisterhood community that I am honored to be a part of, I have come to know Justine Brooks Froelker. She is the author of "Ever Upward", a book that dives into the mental hurdles that surround the journey of a woman whose life hasn't turned out how she hoped, dreamed, and planned after a challenging infertility journey." Her Ted talk – "The Permission of the And" – I found to be quite inspiring, with lots of nuggets of wisdom only found after much heartache, soul-searching, and painful trial and error.
In her talk, Justine points out what many of us including myself know first-hand – that none of us get out of this life unscathed. We all will suffer through traumas, losses, and "what should have been's" in our lifetimes. Infertility is most certainly one of the situations in life where we can feel this massive sense of loss and despair. The decision of whether to keep going through treatment can be just as painful as the angst of knowing when to stop pursuing treatment. Through this process, it can empty our collective "accounts" – both our financial accounts draining our life savings away, and also our emotional accounts leaving us with only depression and loss in its wake.
As we engage through this deep forest of the unknown and the hard, dark places that go along with it, many of our well-meaning friends may say things such as "Get over it," "Dust yourself off," "Never ever give up," or back to "Aren't you over it YET?" These types of statements as well as our own faulty coping mechanisms deny our very real pain and invalidate our experiences. Some coping methods we tend to employ might be staying busy, diving into work, filling up or lives with other things just to be able to breathe and survive another day.
It can feel so confusing when we find ourselves "stuck in sadness" and struggling to cope, feeling alone in the process with the large majority of people never needing to experience infertility (thus misunderstanding ensues).
Justine points out that in our youth, we are typically taught to experience just one feeling. Happy. Sad. Angry. Frustrated. But she came to realize through her own experiences that feeling more than one emotion at the same time is how we thrive! THIS is the permission of the "and". We can feel happy AND sad. Angry AND full of acceptance. She asks a powerful question:
Can a life you didn't choose be joyous AND exist with lifelong grief? Can you ever be happy when you feel so burdened by sadness?
The answer simply put is: yes.
We can think: "I don't like this. I don't want this. This isn't fair. AND I will trust it. AND I will choose to do the work to let it be a gift. I do the work to see the gifts in everything. I am the dark and the light… everything… at the same time."
Wow. Powerful.
Justine goes on to describe what Active Acceptance is.
Active Acceptance: Accepting the things we cannot change and choosing to do the work of what we can control.
"Give yourself permission to change the relationship with your pain. There is power in getting to this very messy and uncomfortable place. When we give ourselves permission to walk into the muck and mess, then we get clarity and then we can heal. We must allow both – the hard stuff and the person we can create after. Surrendering to the process, and choosing to do the work to grow. Like a butterfly…"
This Awakened Life is hard work and super uncomfortable. But in this awakened state (versus a numbed state), we can heal. We can find peace. We can find a new story. I welcome you to find a new story for yourself when you need one. Always remember, you are not alone. Our collective stories make us stronger. Feel free to share yours in the comments.
Please join Julia next week to hear more about her own personal journey down the infertility path. I look forward to speaking with you soon. I wish you the best on your respective journey.
Warm regards,
Cathy