Our home as our healing sanctuary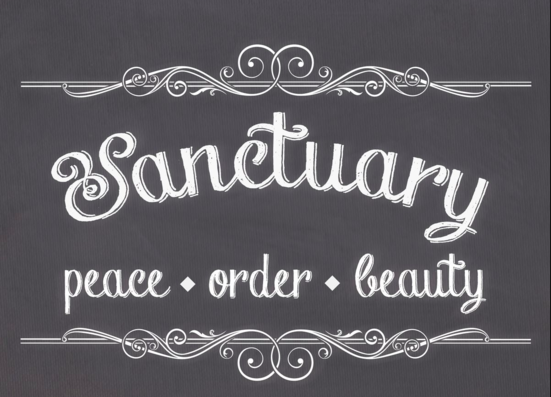 Cheers, dear readers,
As I sit at home with the flu today as I write this blog post, I am reminded how much I love the healing and comforting nature of our dwelling. This April will mark six years that we have lived here at our current residence (that we hope to stay at until the end of our days), and thus just over six years from when we decided to cease IVF treatments. Weeks after we stopped treatment, we decided to focus back on our own lives with just the two of us, and we embarked on searching for what would become our current dwelling. We are very happy here.
I have found through our journey that the space we create around ourselves can be critical. Our home can truly be our sanctuary and offer a place to not only gather our thoughts and often our wits, but also collect ourselves and our strength to again move forward when ready. The infertility journey is fraught with all kinds of unforeseeable twists and turns which can throw one for a loop. Feeling comforted by where one "hangs their hat" can make a significant impact on how quickly we can recover from the all-too-common setbacks.
Here are some thoughts and ideas on making your home your sanctuary.
Candles! – Light several candles with a soothing aroma that make you happy and calm you and your spirit. Please just remember to do so safely and not to leave the candles unattended.
Heartwarming Pictures – What pictures and / or photos bring you joy? Consider storing photos that do NOT bring you joy and a flutter of happiness in your heart, and leave up or replace those pictures with ones that truly do.
Consider Your Lighting – This can be very personal, but contemplate what type of lighting and how much soothes you. Do you love natural light? Do you prefer low lighting? This can definitely affect our mood and thus our well-being.
Music Moves Us – What type of music enlivens your soul, or soothes your mind? Keep this type of music handy or have those custom created radio stations at the ready for you to turn on whenever you need them. I find Classical For Studying very calming, while Rockabilly music makes me elated and excitedly happy. Find what works for you.
Private Stash of Resources – Have on hand your own private library and set of resources that you find help you stay centered and as healthy as possible. During our journey, I had various yoga DVDs, stretching exercises along with tools such as yoga floor mats and stretching balls. I also love to do guided meditation using headspace.com as this helps me stay balanced and mentally rested.
Don't under-estimate the value of your home living space and how you make it work for you (instead of against you). This can be a critical and essential piece to the puzzle of helping you stay on track to the best of your ability while rejuvenating yourself along the way. Extreme self-care during stressful periods is time well spent!
Please join me next week to hear more about my personal journey down the infertility path. I look forward to speaking with you. I wish you the best on your journey.
Warm regards,
Cathy