If at birth you don't succeed …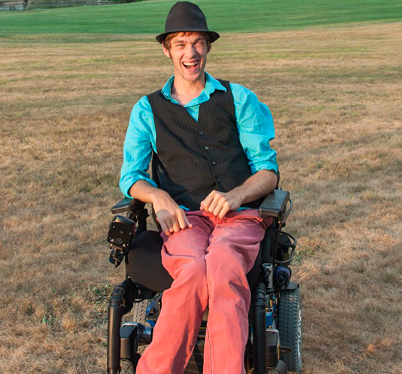 Cheers, dear readers,
This past weekend, I had the great opportunity and privilege to hear the incredible and inspiring Zack Anner speak at the World Domination Summit conference in Portland, Oregon – a conference that focuses on "living a remarkable life in a conventional world". Zach is the author of the comedic memoir If at Birth You Don't Succeed (dang, I wish I wrote a book with that title! Ha!) He is an award-winning comedian, show host, and public speaker who won his own travel show on the Oprah Winfrey Network. He's also hosted several web series on his YouTube channel, garnering over 13 million hits. Zach says he spends most of his spare time "in his underwear, thinking about how he can change the world."
What makes this man truly remarkable is not just his rather unusual accomplishments to date summarized above, but that Zack was born with a disability leaving his entire body malformed requiring him to use a motorized wheelchair for his mobility. Stated from his website, "Zach opens his frank and devilishly funny book, If at Birth You Don't Succeed with an admission: he botched his own birth, entering the world with cerebral palsy and an uncertain future. So how did a kid who almost failed kindergarten blossom into a viral internet sensation who's hosted two travel shows, impressed Oprah, driven the Mars Rover, and inspired a John Mayer song? (It wasn't "Your Body Is a Wonderland.") If at Birth You Don't Succeed is a hilariously irreverent and heartfelt memoir about finding your passion and your path – even when it's paved with epic misadventure."
I can say from seeing him speak on stage with my own eyes that this inspirational and motivational speaker is nothing short of absolutely incredible. How often do we take for granted our own health? What about being born with privilege (if that's the case)? How about our ability to walk, to go for a hike whenever we want, to stand up and make our own tea even? Yet this amazing man welcomes his deformed and crippled body, his situation and his plight not only with grace, but with incredible good humor – like laugh until your belly aches good humor.
Zack graciously asked the audience to ask him anything. One person shouted out: "Zack, what's your next step?" Zack responded quickly without missing a beat "The first one!" … and then took the next question while the audience was still roaring with laugher and delight. We laughed, we cried, and we marveled at this man's genuine interest in making the world a better place while simultaneously experiencing his life as deeply and passionately as he could, using the support and love of his beloved friends to help him on his awesome quests. He generously shared with us a video showing his friends literally carrying him around on a stretcher to help him just put his eyes on a waterfall for the first time. Zack made sure to point out that his disabilities and limits are more visible than disabilities of others. Infertility is certainly an example of an "invisible disability" that many of us try to hide partly due to shame. Zack does not have the ability to hide his disabilities – instead he OWNS them, embraces them, and uses them as part of his comedy.
During difficult journeys such as infertility, it can be so easy to fall into the "woe is me" mindset focusing only on the negative, ignoring all of the things going right in our life, such as the free use of our legs and arms to do as we wish. While it is absolutely troubling and true that our reproductive organs are not working as they were meant to, what about all of the other parts of our body that are working perfectly well and correctly? Why not stop and smell the roses and take absolute joy in the parts of our life (and body) that are going extremely well?
Here are some amazing some bits of wisdom shared by Zack during his talk:
Don't take for granted the privilege of pursuing our dreams.
To truly experience the world, know that sometimes it's going to kick your ass.
Be grateful for every opportunity you get to live your life.
We all have a short amount of time that we are given. Our responsibility is to leave a legacy, have an impact, and make a mark with love and compassion in our heart.
Just. Awesome. When asked by the audience who inspires him, Zack responded "anyone who chases their dreams…. also Rihanna." J He is a living legacy reminding us that laugher can get us through ANY hardship.
Thanks for the reminder, Zack. It was an absolute honor and a privilege to see you speak, enjoy your beautiful spirit, and be inspired by your deep tenacity for life, love and passion against all odds. Thank you for reminding us also that no one does it alone. You rock, and so do your friends who do all they do for you helping you see the world. It's so incredible for all of us to have great friends who care, look out for us, and help make each day better. Thankfully I know the feeling well, and I do my best to not take that granted. Supportive communities and friends mean the world. Go hug a friend today! And feel free to reach out to us here if you need a helping hand on your quest.
Please join me next week to hear more about my personal journey down the infertility path. I look forward to speaking with you. I wish you the best on your journey.
Warm regards,
Cathy