Couple Creates "Infertility Announcements" to Illustrate Their Struggle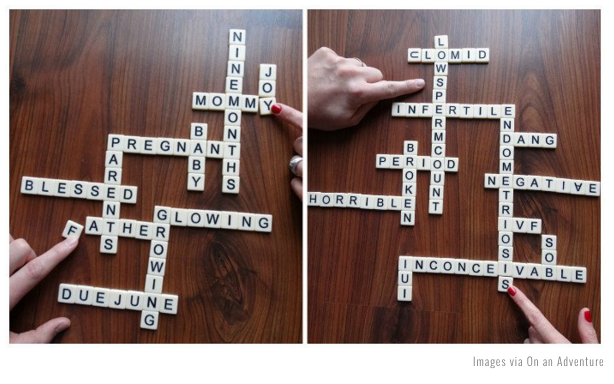 Cheers, dear readers,
A friend recently showed me an article that I would like to share with you here. It really struck a chord with me and also gave me a chuckle in what can often times feel like a humorless journey – dealing with infertility. I have found throughout my own life that if we can't laugh at ourselves and our circumstances, we would truly all go insane. Laugher absolutely soothes the soul in times of need. And sometimes we could all really use some "soothing of the soul". Ignoring our problems is normally not a good course of action. But finding humor and lighthearted-ness can certainly make our difficult journeys more relatable, helping us find more compassion for ourselves, and maybe even increase understanding for those around us.
As a fine example of this in action, in this article (full post here) this wonderful and empathetic couple "creates tongue-in-cheek 'infertility announcements' to show support for those dealing with infertility issues." What a hilarious idea! I was tickled!
The article states:
"If you're currently battling or ever struggled with infertility, then you're familiar with the double-edge sword that is seeing a friend's cute and clever pregnancy announcement on social media. As much as you're thrilled for them and their good news, having these posts pop up in your feed stings a little, since you can't help but be bummed by your own crappy luck."
Being an infertility survivor myself I can raise my hand and say yes, I have experienced this first-hand. I have felt some internal turmoil when we are so excited for our friends and family and their good fortune as we receive adorable and sweet birth announcements. But at the same time we struggle as our own heart aches and we feel a twinge of pain and feel the sting of our own misfortune. These mixed emotions can be difficult to reconcile. Just even having the turmoil itself can make us feel badly about ourselves too. In times like these practicing self-compassion can be so key. One way to practice self-compassion is to have a good ole laugh at ourselves. It helps remind us that we are all human, we all have struggles that we go through, and remind us too that we are not alone in our struggles. Having a sense of community can be so very critical to successfully navigating this journey.
As the couple states:
"Hearing other people's stories about infertility helped take away some of the loneliness and isolation we were experiencing. We are the happy parents of two little boys who joined our family through the miracle of adoption after we had struggled for several years with infertility. Though the infertility is still there, the struggle is mostly not. What used to be such a consuming, challenging part of our life is now usually more of a passing thought. We are so grateful to be parents, but we have not forgotten how lonely and horrible infertility can feel, which is why we thought we'd create something to connect with others who are going through what we went through…[The announcements were created] to hopefully lift the spirits of others who struggle with infertility."
My spirit is officially lifted! Congrats on a job well done! I also want to add that I think creating these mock announcements was a brave and courageous thing to do. Many choose not to even utter the word "infertile", let alone make an announcement about it. I am impressed and heartened by this fine example. As a matter of fact I wish I'd thought of it!
As always, please remember that you are not alone on your journey. You can always reach out to anyone here at Slow Swimmers & Fried Eggs. We are so happy to be part of your community.
Please join me next week to hear more about my personal journey down the infertility path. I look forward to speaking with you. And I wish you the best on your journey.
Warm regards,
Cathy