An Exercise: Identifying a "facedown" moment and rumbling with the emotions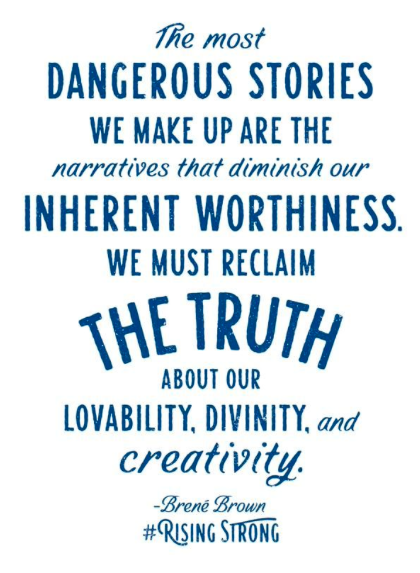 Cheers, dear readers,
First I just want to say a whole-hearted WELCOME to our new fellow blogger at the B Method, Stephanie Roth. We met through this blog, and it turns out she not only lives close to me but is a Fertility Coach! I'm excited she is sharing her hard-earned wisdom and expertise with Conceive Hospital's patients as well as the world at large. Thanks for joining the team!
To continue celebrating our other writers here at Conceive's blog family, my dear husband Eric's last post really struck a chord with me. I have to say that I am a bit envious of his wit and ingenuity at weaving in humor and light-heartedness into his posts. How does he do that so effortlessly on such a weighty topic?! Wow I'm impressed, my love! You are awesome!
Now that I have "hugged-it-out" with my fellow bloggers, back to our regularly scheduled program:
In my last post, I was continuing to share what I am learning from the amazing Living Brave Semester course by Brené Brown I am taking. So much of it is applicable to the hero's journey of an infertility survivor. Today I will take you through an exercise that I did working with "The Rumble" of our emotions. To refresh your memory:
The Rumble: Owning Our Story – This is the name for a process of being totally honest about the stories we're making up about our struggle, then identify the self-deceptions and challenge the assumptions to determine what's the truth, what's self-protection, and what needs to change if we want to lead more whole-hearted lives.
I had promised I would go into more detail about how this process has manifested in my own life, and how it can help you on your journey. You can take these questions and use them to work through your own struggles, or just see how I used them in mine.
Pick a story of struggle that you want to explore.
WHAT WAS YOUR FALL OR "FACE DOWN IN THE ARENA" MOMENT?
A fall can be a small moment, a painful conversation, a big failure, or a growing disappointment. The important thing is to be specific. Capture the moment in detail. Also, be sure to only talk about the moment of your fall ­– don't try to figure out the ending.
My fall down moment was first getting diagnosed with infertility. Then two failed IVFs. Dealing with all of the insensitive comments. Dealing with being excluded from children's birthday parties and such. The big fat failure of conceiving and becoming a parent, and reckoning with all of that. It really hurt – the entire experience. It was traumatizing. And it seems no one really understands.
The "Rumble" exercise discusses that there are four questions that can help us "rumble" with our messy, complicated and unpleasant emotions. We are all "story-makers" as it is our mind's way of "making sense" or explaining away the tough experiences that we all have in our lives. Then we get a "reward" of some kind from this, whether the stories that we tell ourselves are true or not! It takes self-awareness and work to instead get curious and "rumble" with our emotions and thoughts (which affect our behavior) and test the veracity of these musings. Below is what's called the "Stormy First Draft" where you let it all out uncensored, unedited, totally honest and possibly "un-shareable". I will use my own experiences with infertility as an example and how I occasionally perceived my family and friends responding to me and to my struggles.
THE STORY I'M MAKING UP OR THE STORY I TOLD MYSELF:
… that my friends abandoned me, didn't love me enough or care about my plight as I went through infertility. They didn't want me to share my struggles with them and they couldn't handle it and wanted me to shut up already, move on and "get over it." I also felt like I was kicked out of their club: The Mom Club. And I'm still out, evidenced by the fact that they sometimes forget to invite me to birthday parties. Or when I buy their kid's gifts and they seem indifferent. They have no idea or care for how this affects me, nor do they seem to care what I've been through.
THE FIRST THING I WANT TO DO:
Run away and hide. Hang out with other non-parents. Be by myself.
MY EMOTIONS:
Disappointment. Expectations. Grief. Heartache. Identity Issues. Need. Nostalgia. Resentment. Shame.
WHAT MORE DO I NEED TO LEARN AND UNDERSTAND ABOUT THE SITUATION?
What are the facts in the story?
What assumptions am I making?
Facts: They can and did have their own biological kids. I am not physically able to have my own children.
Assumptions: I no longer fit in. We have nothing in common. They don't invite me on purpose. They are no longer in my corner.
WHAT MORE DO I NEED TO LEARN AND UNDERSTAND ABOUT THE OTHER PEOPLE IN THE STORY?
What additional information do I need?
What questions or clarifications might help?
Did they not invite me on purpose? Is this true? Do they still love me? Do they care or do they judge me that I did not adopt? Do they miss me? Do they empathize with my struggle?
WHAT MORE DO I NEED TO LEARN AND UNDERSTAND ABOUT MYSELF?
What's underneath my response?
What am I really feeling?
I feel like I don't belong anymore. I feel excluded, hurt and abandoned. I feel disappointed. I feel like they don't care and have no empathy. I feel exhausted. I fear they talk about me behind my back.
WHAT PART DID I PLAY?
Sometimes you may not play a part. Even so, it is still helpful to think about this question and write down your answer.
I played a part in that I had expectations about how good friends are supposed to act. And when that didn't feel like it happened, my world came crashing down. And I went elsewhere looking for friends and support. I stopped spending as much time nurturing those relationships and spent my time elsewhere with other people. That was my conscious choice. But then that exasperated the situation. I made it worse by my decisions. I also spent years avoiding baby showers and many toddler parties, thus I did not "show up". I thought they would be empathic. But as Eric says, "Out of sight, out of mind."
This was tough for me to share. I am not proud of these thoughts or assumptions. But if we are going to rise above our "Stormy First Drafts", we have to have the courage to get curious about the validity of our stories. What I realize today is that my friends and family all love me whether I have my own children or not. It is often our own expectations of other people that kill our joy in life. It is important to remember that we are all doing our best, and most people simply do not understand the trauma of infertility and treatment, and we need to give them a break. They are trying to be supportive as best as they can.
It is our responsibility to let them know that we are OK (when we are) and to "show up" when we can at the children's birthday parties. Perhaps we need to invite ourselves sometimes as maybe we were not originally invited in an effort to be sensitive to our infertile status, or because we have "not been around" while we were depressed, sad or grieving our losses (remember the "out of sight, out of mind" situation). Own your stories, own your emotions, own your part in how you got to where you are. And then take that knowledge, find joy again, and go be awesome out there with your loved ones! They need you just like you need them, don't forget.
Please join me next week to hear more about my personal journey down the infertility path. I look forward to speaking with you. And I wish you the best on your journey.
Warm regards,
Cathy