Make Game Day Friendly to Your Fertility With This Super Snack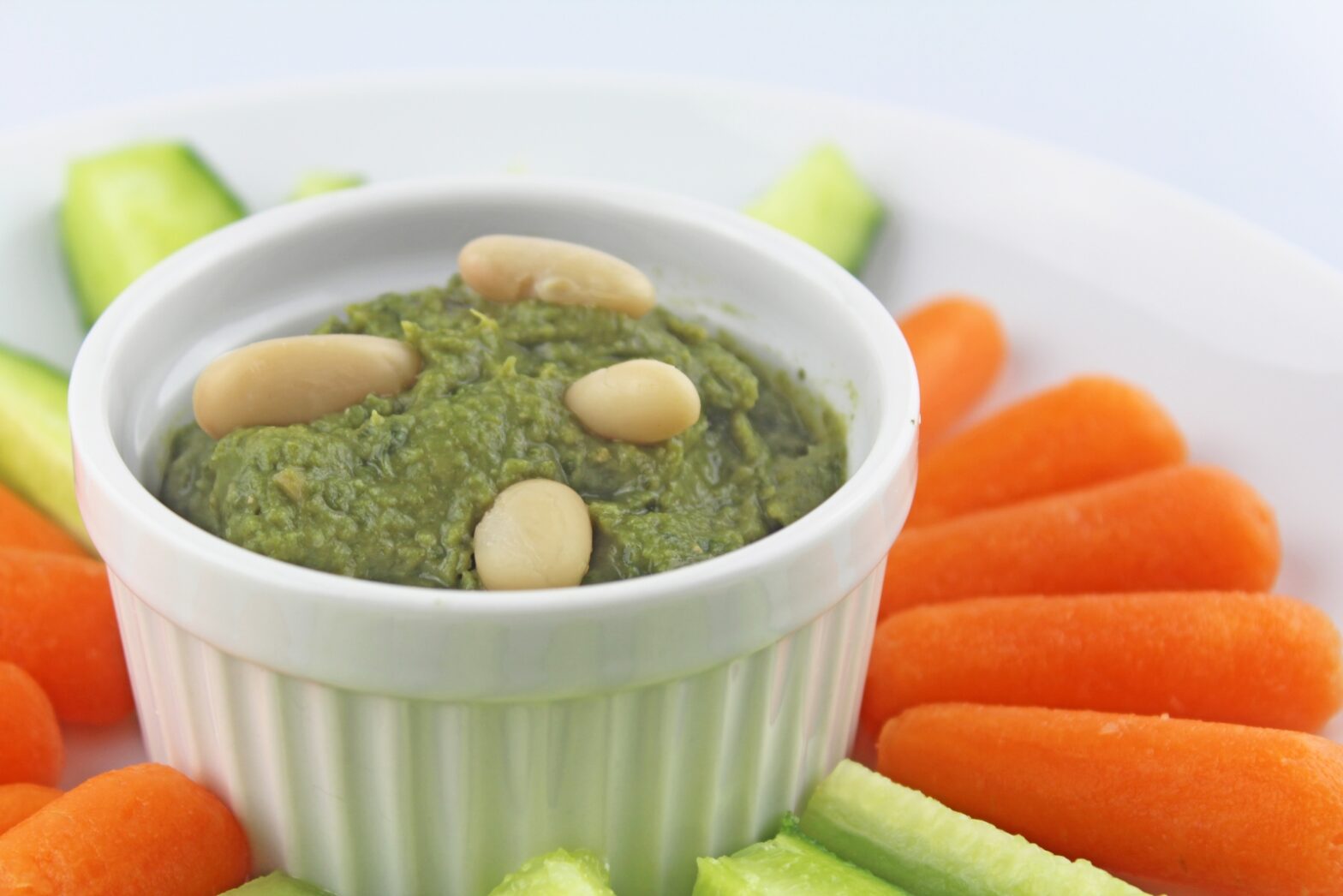 This weekend is Super Bowl weekend in the United States!
That means 3 things: football, parties and food.
The Super Bowl is one the most-watched television events of the year. Even those who aren't football fans and maybe haven't even watched a football game all year always show up for Super Bowl parties. There's even been talk in the past of some employers giving their employees the day off on the Monday after Super Bowl Sunday, since so many people take the day off anyway.
We love to indulge during the Super Bowl. Sometimes the food is more exciting than the football game!
I'm staying home with the little one, so I won't be heading to any Super Bowl parties this year. I am, however, sending my husband to a Super Bowl party this weekend with a really delicious snack that's also healthy and fertility-friendly, and I'm keeping some of it at home for myself so I get to indulge too.
This simple bean dip is a nice twist on traditional hummus and loaded with foods that are beneficial for our fertility. So you can enjoy the big game and boost your fertility too.
White Bean, Garlic and Kale Hummus
Ingredients:
6 cloves garlic
1 can white beans, drained and rinsed (any kind of white beans will do, I prefer cannellini beans)
2 kale leaves, chopped and with center stems removed
¼ cup tahini
Juice of 1 lemon
3 Tbsp extra virgin olive oil
½ tsp salt
2 Tbsp water
Directions:
Wrap garlic cloves, skin on, in aluminum foil. Seal and roast in 400-degree oven for 20 minutes. Remove, open foil and let cool.
In a food processor, add beans, kale, tahini, lemon juice, olive oil, water and salt. Puree until smooth. Add more lemon juice until hummus reaches desired consistency.
When ready to serve, drizzle olive oil and sprinkle with paprika. You can also add pine nuts if you want for a nice touch. Serve with sliced veggies – cucumber, peppers, carrots, celery – or pita bread.
In addition to loving hummus and anything that even resembles hummus, there are lots of things I adore about this dip. First, anything that gives me another way to get leafy greens scores a touchdown in my book. Leafy greens, as I've written before, are fertility powerhouse foods, rich in folate, calcium, Vitamins A, C and K, and iron, all of which help regulate hormone levels and ovulation, and support follicular development. Kale also helps reduce inflammation in the body.
The cannellini beans give the dip a great texture and smooth flavor. Beans are also a fantastic source of protein, and studies have shown that women who get their protein from plant-based sources have an easier time conceiving than those who rely primarily on animal protein.
Tahini is a paste made from sesame seeds and olive oil, both of which are rich in omega-3 fatty acids, which is shown to help improve cell quality, including egg and sperm cells. Olive oil also is a great source of Vitamin E, which is also found in the follicular fluid where our eggs grow and mature.
Finally, the lemon juice gives a Vitamin C and antioxidant boost.
So the final score:
Fertility: 5 Infertility: 0
To your fertility,
Stephanie xo