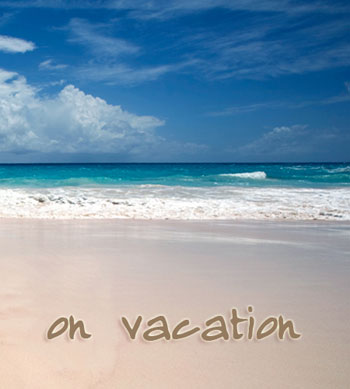 Vacation Tips for getting a work out in… even when you "don't have time"
"There is no where to workout," "I won't have the time," "I'll be with my family there will be no space." These are a few of many of the excuses my clients come up with before they go away. Vacations are all about relaxing and switching off.. and if you really want to take a full 7 days from working out, just think about that first session when you final drag yourself back into the gym. It most likely will not be your first day back, possibly the end of that week when you are finally ready to face up to your first workout after what seems like ages. And what about your fertility? That doesn't ever take time off, does it?
If you really like the idea of a relaxing/no-workout vacation, well that is fine, as long as you don't feel super guilty about it. However, by doing just a little something active everyday will not only help to keep up all that good work you have done so far, but will make that first session back so much less daunting. As well as getting your daily endurance kick too, a daily morning yoga-stretch, or quick afternoon jog or a few laps in the pool will feel so good in between all that eating, relaxing and socializing. You are more likely to come back feeling refreshed and recharged rather then experience that "I need another vacation for my vacation" feeling we all have after an indulgent trip. Am I right?
Here are a few of the things I like to do while I am on vacation if I am limited by time, space, equipment or excuses (!):
1. Go for a run – it is not something I do often in Dubai, the landscape in Dubai is not much for a run. It is also a great and healthy way to get to know your new surroundings. I love running in the country side or in a big city. As long as I have packed a pair of running trainers and my ipod this is a workout I can take all around the world.
2. Skip/Push Ups/Abs – all you need is a jump rope and the floor. Get a quick cardio blast into your day, try 3 rounds of 100 skips. 3 rounds of 10-15 push ups and 3 rounds of 20 crunches. It'll keep that mind-body connection while you are taking a break from training without completely switching it off entirely.
3. Play Games – have fun! If there are children on your trip, entertain them! Kids have an insane amount of energy, try keep up with them! Be a kid again, the time will fly!
4. Walking tours – I am a real city slicker and when it comes to trips to London or New York I do love a good walking tour. This low-impact workout it one of the best. Using your brain and your body, now that is a perfect combination.