Savory soup recipe with fertility maximizing ingredients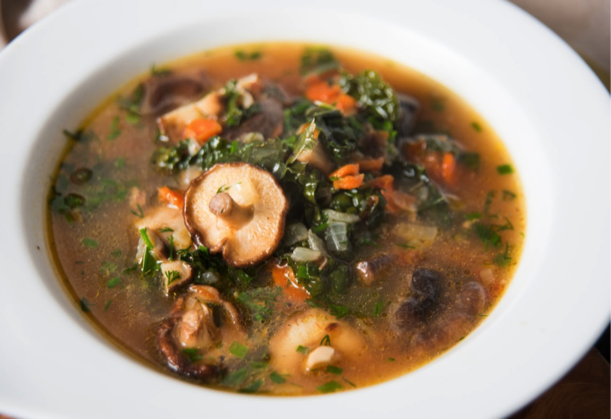 If you are anything like me, I am always on the lookout for amazing and delish recipes ! I tend to look for recipes to suit my diet routine, which includes tons of veggies to get as many vitamins and nutrients as possible, as well as animal protein (from grass fed animals, of course). Great recipes also have to be super easy to prepare and even greater as leftovers !!
Here is one of my favs, and it takes no time to get to the end product. If you enjoy kale (or even spinach) and meat as I do, you'll love this Kale and Chicken Sausage Soup treat.
Ingredients
14 ounces of organic chicken smoked sausage, sliced into half moons
6 cups of organic chicken bone broth*
1 bunch of kale – stemmed and shredded
2 carrots, sliced
1 onion, peeled and diced into chunks
1 red pepper, peeled and diced into chunks
3 Garlic cloves, diced
3 tablespoons of coconut oil
3 teaspoons of pink Himalayan sea salt
1 teaspoon of black pepper
1 tablespoon of parsley
2-3 bay leaves
Instructions
In a large frying pan, melt the coconut oil over low/medium heat. Once melted, add in the sausage moon slices, onion, red pepper and garlic.
Let saute into a nice aroma mixture, for approximately 2 minutes.
Throw in the salt and pepper.
Add in the kale and let it cook with the other ingredients for another 2 minutes.
Once completed, pour into a large pot.
Then, pour in the chicken broth, salt, pepper, parsley and bay leaves. Mix well.
Then pour in the carrots.
Stir well, cover and let simmer for 1 hour on medium/low heat. At this point, the carrots have to get tender, so cook for as little or as long as you want tender carrots.
Depending on the taste, I sometimes add in a little more broth at this point.
I also spice up this recipe by adding in a few sliced jalapenos, but this is purely optional.
There are so many awesome things in this recipe – bone broth especially as well as the kale. Add in as much kale as you can stand ! Kale is an awesome superfood because it has tons of vitamins A, C and K – which are all important for fertility maximizing benefits. Another reason kale is an excellent addition is because it contains immune boosting ability. The coconut oil is also a nice, healthy fat.
If you read my post about bone broth, you already know the many, many health and fertility benefits of bone broth.
This recipe makes delicious leftovers. And, to have variety on the sausage and kale, I sometimes sub in potatoes or gluten free pasta for the carrots. Be adventurous and try your own take on this recipe. Any way it goes, it is still super yummy and has tons of great health benefits too !
Sending you much love and many hugs,
*For good, organic and all natural broth, you can check your local natural grocer or order a brand such as Kettle and Fire or Osso Good. Please do not use canned or boxed broth, which are full of unnatural and synthetic ingredients which can have negative, long term impacts on your endocrine and reproductive systems.