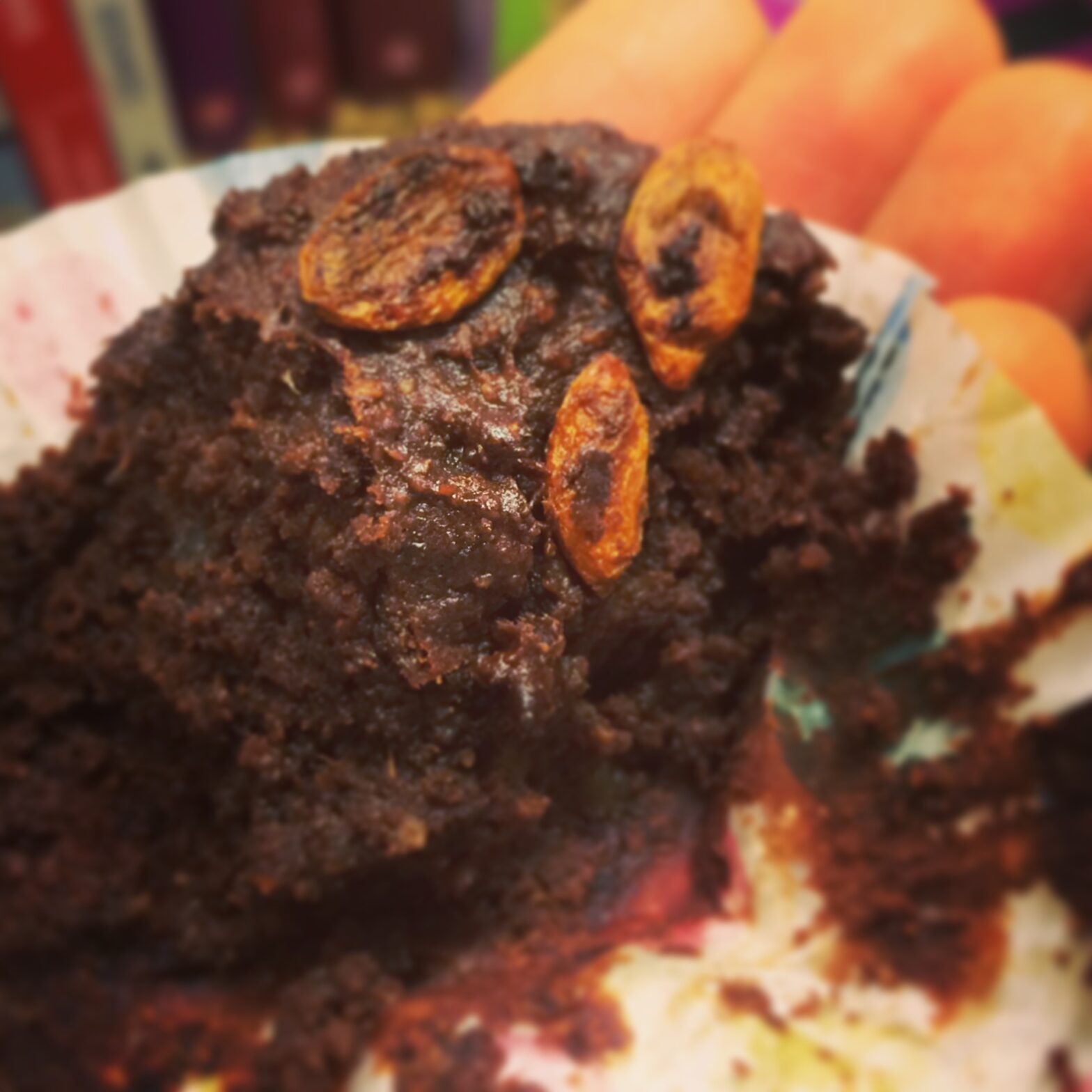 Took me 2 attempts to figure and perfect this one ! The first two failed attempts were nuts. Literally, nuts!
I used walnuts and hazelnuts and they didn't quite do the trick but Almonds…ah beautiful almonds …
They were the jelly to this peanut-butter of a recipe  🙂
What makes these brownie cakes, without mincing of words, KICKASS, are the nutritional benefits :
Calories per cake : 126
Refined sugar free!
Gluten-free!
Oil & butter free!
6 g of protein per cake
4g of natural sugars per cake
Rich in vitamins, essential elements, antioxidants, monounsaturated fats and fibre
What are you waiting for ? Go whip up your own batch and don't ever feel guilty again for enjoying fudge brownie cakes !
You will need :
1 1/4 cup of almond powder or almond meal (you can make this at home by throwing almonds into a processor and blitzing till they resemble a fine powder)
1 1/2 very ripe bananas
3/4 tsp of baking soda
10 large seedless dates
3 tbsp of low fat yoghurt (this makes the batter really moist. Substitute with soy yoghurt for dairy sensitivities)
1/2 cup unsweetened cacao powder
45g of choice chocolate protein powder (I used Smart Fitness Athlete powder because it's low-cal and all-natural)
goji berries to sprinkle on top
To make :
1 — Pre-heat your oven to 175 degrees Celsius
2 — In a bowl mix well the cacao powder, almond powder, chocolate protein powder and baking soda.
3 — In a food processor, blitz together the bananas, dates and yoghurt to make a moist gooey paste.
4 — Tip the banana-date-yoghurt paste into the bowl of dry ingredients and mix by hand till it resembles fudge-y cake batter like this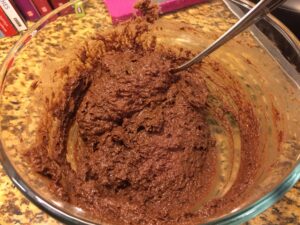 5 — Spoon the batter into cupcake cases. The recipe makes 12. Sprinkle some goji berries or even nuts if you prefer atop the cakes and bake in the over for 18-20 minutes.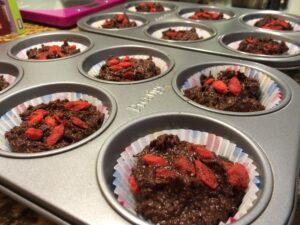 ….. and you are welcome 😉  !