My Favorite Go-To Fertility Smoothie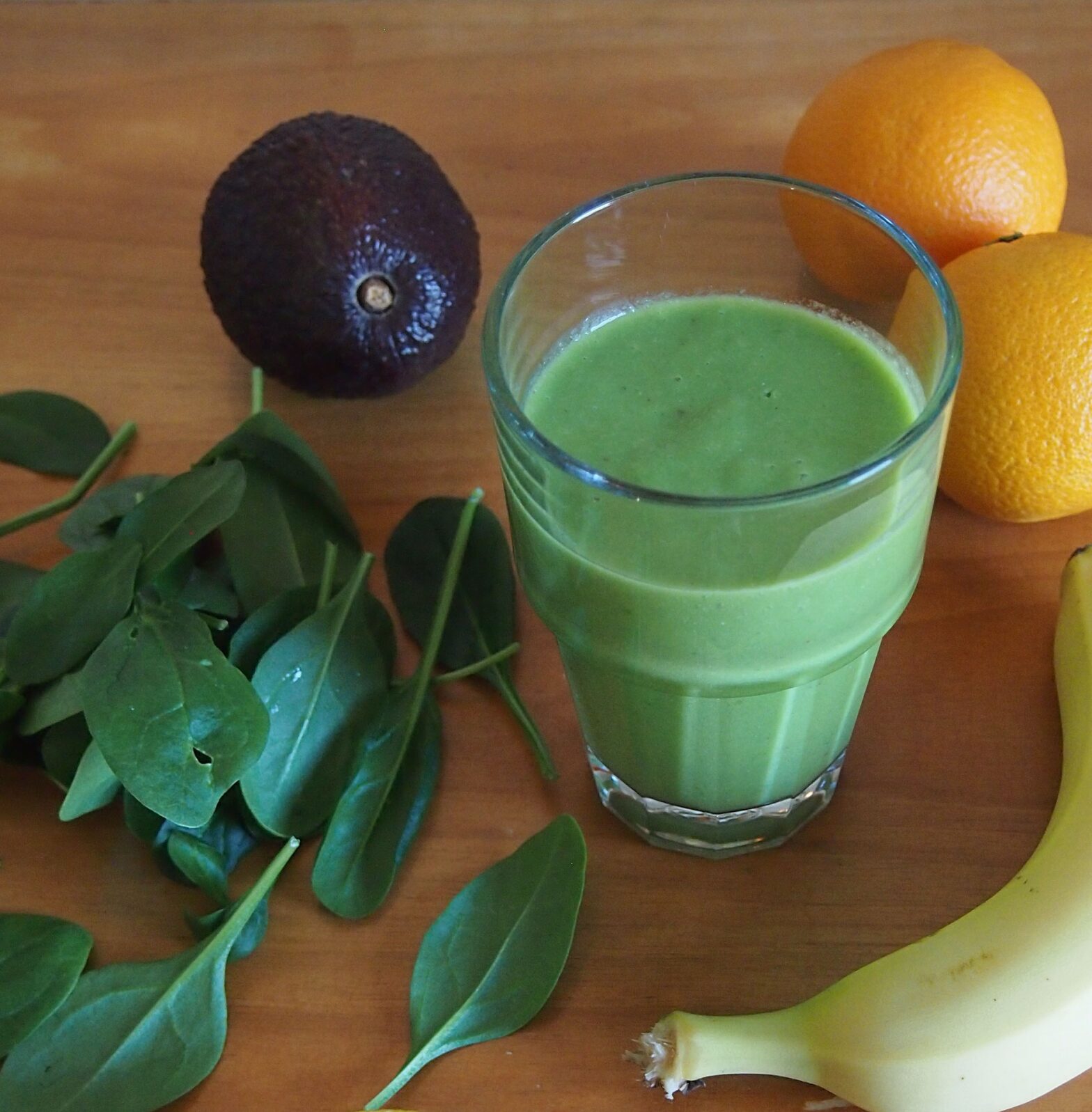 I love me a good smoothie. Throwing a bunch of healthy goodness into a blender and watching it magically transform at the touch of a button into a delectable potion of vitamins and minerals is pretty special, indeed.
I started drinking smoothies on a regular basis about 5 years ago. This was before I even started trying to conceive!! Specifically, I started drinking "green" smoothies, where one of the ingredients was a serving of some sort of leafy green vegetable. I was starting to become more interested in nutrition and learned that leafy green vegetables were a must-have in any healthy diet. I wanted creative ways to get my daily allowance of leafy greens and found that drinking them was just as beneficial – and sometimes more fun – than eating them!
Then when I started trying to get pregnant, I learned that leafy greens are of paramount importance to a fertility-friendly diet, and therefore a wonderful smoothie ingredient, for many reasons:
Iron: Leafy greens are loaded with iron, which is super important for regulating ovulation. Studies have shown that women who get sufficient iron in their diet have, on average, 40% less risk of ovulatory-related infertility.
Folate: Along with iron, folate is a key ingredient in overcoming ovulatory infertility, and leafy greens are loaded with it. One of 8 B vitamins,
Other Vitamins, Minerals and Fiber: All essential for optimal fertility.
So, it's official. Leafy green vegetables are rock stars for boosting fertility. Dark leafy greens, like spinach, kale and chard are especially beneficial.
There are so many other benefits to drinking green smoothies regularly, including:
They're quick and easy to make.
They're healthy.
They help with weight loss by replacing a meal or snack with a liquid drink while still giving you an allowance of essential vitamins and minerals.
They aid digestion.
They taste great!
Building Blocks of a Great Smoothie
In making a good green smoothie, I pick my leafy green veggie – usually one of the big three, spinach, kale or chard. Spinach has the mildest flavor, so it works well. Spinach also packs the iron/folate one-two punch so it's a real fertility powerhouse!
Next, I select my liquid. I prefer the plant-based milks; I love the nutty flavor that almond milk gives to a smoothie, but I also enjoy using coconut milk for when I want a smoothie with a more tropical flair. Either of these are a real boon to fertility, as nuts are loaded with healthy fats which help regulate hormone balance, which is so important when trying to conceive. You can also use cow's milk or yogurt if you want – studies suggest that full-fat dairy in moderation is beneficial for fertility also. I'm not a huge fan of cow's milk myself, so I don't use it for smoothies. Dairy products can also lead to inflammation in the body which isn't so great for fertility, but a cup a day in a smoothie probably won't hurt.
Then, I choose my base. There are two main bases I use for smoothies, banana and avocado. While avocados are one of my very favorite foods in the entire world, I actually prefer the consistency of bananas for my smoothies. Experiment and see what works for you.
After the 3 building blocks are selected, you can then have fun experimenting with the array of fruits, herbs, seeds, and spices to really make your smoothies great.   Berries, mangos, kiwi, citrus fruits, chia seed, flax seed, cinnamon, cardamom, maca powder, spirulina — the possibilities are limitless and these are all great options for fertility – so go to town exploring what flavor combinations work for you!
The smoothie recipe below is a basic one without a lot of bells and whistles. But it's the one I make the most because when I'm rushing out the door in the morning and only have a few minutes to make an on-the-go breakfast, I want something that's quick and easy, and I always have these ingredients on hand.
Stephanie's Favorite Go-To Fertility Smoothie
Ingredients:
2 cups plain, unsweetened almond milk (I prefer Silk brand)
1 handful raw spinach (about 1 cup)
1 banana (use a frozen one if you want your spinach to be frostier – that's how I like 'em!)
¼ cup blueberries
1 Tbsp ground flax seed
A few ice cubes, if desired, again for that frostier smoothie quality
Dash of cinnamon
Directions:
Put ingredients except for cinnamon in the blender in the order listed. Blend and pour into glasses. Sprinkle with cinnamon on top. Drink and enjoy!
This makes two servings, one for you and one for your partner – or you might enjoy it so much you'll hog it all up yourself!
Smoothies are a great habit to get into now, not only because they're healthy and wonderful for you and your fertility, but kids also like them so after you have your family you can continue drinking them for healthy family fun! My 2 ½ -year-old son loves them!
Do you like to drink smoothies? What are your favorite smoothie recipes? I'd love to hear from you about your experiences with smoothies!
To your fertility,
Stephanie xoxo