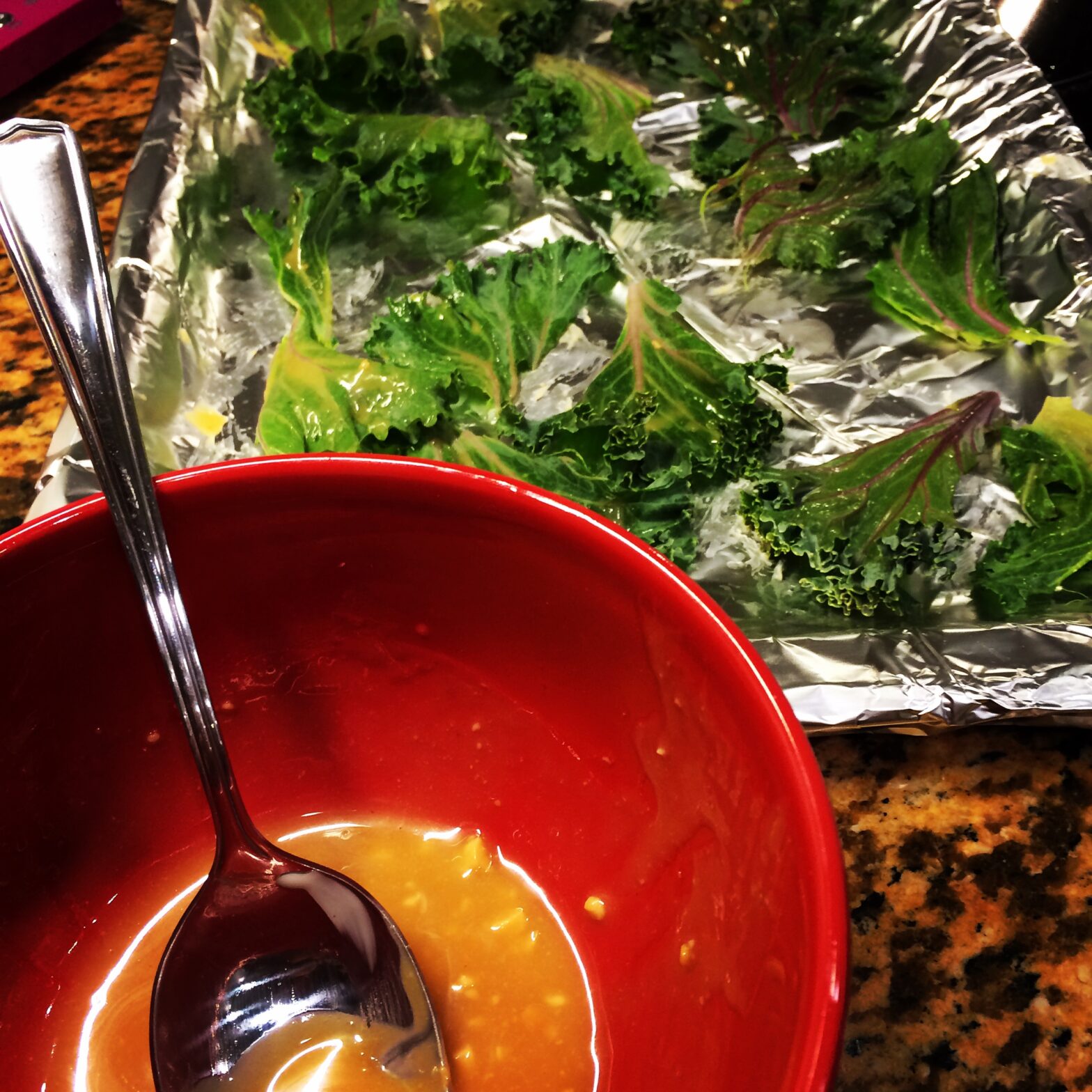 WARNING : The products of this recipe are incredibly addictive
Who doesn't love kicking back on the sofa with some trashy TV and a big bag of cheese puffs or salt & vinegar chips ? Perfect way to unwind after an insanity-filled work day ! Meanwhile, the calorie counter is going DINNG-DINNG-DONG crazy…
The answer is going green of course ! And before you roll your eyes and groan, let me tell you – DON'T knock it before you even try it ! These Kale chips will have you re-thinking the going green revolution completely and I promise you, you will be hooked.
How to make? Don't bother hunting for them in large supermarket stores where they're stupidly overpriced. Instead, make your way to the veggies aisle, grab large handfuls of these leafy leaves and make your way straight to your kitchen.
You will need :
5-6 bunches of Kale leaves
1-2 tablespoons of homemade cashew butter ( recipe : https://www.conceiveivf.com/b-method/buttery-nuttiness-3 )
half a handful of lightly toasted peanuts
1 tablespoon of honey
1 tablespoon of melted butter
** Instead of cashew-nut butter feel free to use store-bought crunchy peanut butter which saves you having to toast the peanuts yourself. Beware though, because these nut-butters are loaded with sugar and preservatives and it's best to avoid them if you're trying to cut back on calories.
Method
Pre-heat your oven to 150 degrees Celsius
Give your Kale leaves a nice thorough wash and then make sure they're nicely dry. I dab mine down with a dry cloth because I just couldn't wait. Tear the leaves off the stock into bite-sized pieces and pop them into a large mixing bowl.
Roughly chop the peanuts. If you're not feeling particularly patient then pop them into a sandwich bag and bash them for 5 seconds with a rolling pin. Et voila ! Now lightly toast them in a frying pan over the stove. This really enhances their flavour.
In a small bowl, mix the melted butter, cashew-nut butter, toasted peanuts and honey into a thick sticky marinade.
Pour this marinade over the leaves in the large mixing bowl and massage it into the leaves until they're all covered in this sticky coating. This is the most therapeutic part of the process so take your time 🙂 Savour the leafy greens and the cathartic motion of massaging the marinade into them.
Line the leaves in a single layer on a baking tray and bake for 20-25 minutes. Keep an eye on them to make sure they're not burn. Easiest way to tell when they're ready is to open the oven, grab the nearest leaf and if they crunch upon biting, they're ready to come out ! (pictured below)
Pop them into a sealed bag and share with your friends. OR, keep them all to yourself, head back to your couch and enjoy a guilt-free KRRRUNCHY snack 😉
You can get 'KREATIVE' with the flavours. Another favourite of mine is a marinade of lemon, garlic, chilli flakes mixed into the melted butter.
Know more about Infertility specialist in Dubai | Infertility treatment in Dubai | Ivf centers in Dubai