Fall Into Improved Fertility With This Awesome Autumn Soup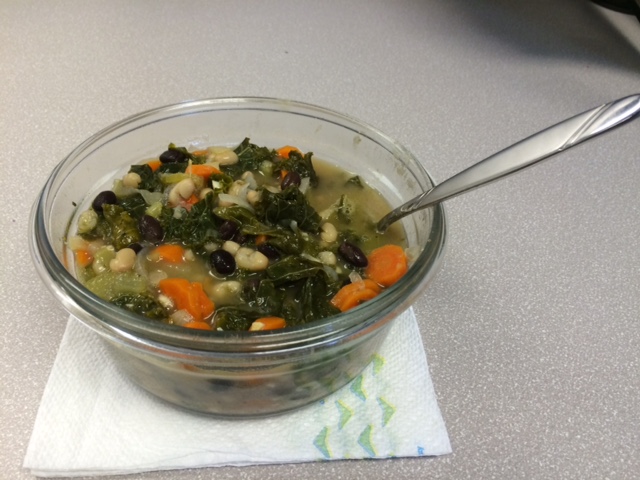 According to the calendar, it's been autumn for more than a month now. The problem is, where I live, it's still been hot! I had my air conditioning on last week!
I love summer and hot weather, but when the calendar says it's time to change seasons, I want it to change seasons!
According to the weather forecast, last night was supposed to get cold enough for me to turn on my heat; I did, and sure enough, when I left my house this morning, there was frost on the ground and a nip in the air.   Yippee! Fall is finally here!
Autumn is one of my favorite times of the year. I love so much about the season: the crisp air; the cooler temperatures; being able to wear light sweaters, jackets and boots; the gorgeous colors; going out for a walk and feeling the leaves (that are starting to fall from the trees) crunch beneath my feet.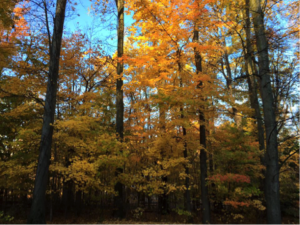 And – you know me, I love to eat – one of the best things about autumn is the food!   This is really a wonderful season to eat, especially for boosting your fertility. Fertility-friendly foods abound – think leafy green vegetables, pumpkins (and their seeds), root vegetables, mushrooms, sweet potatoes, apples, and the list goes on.
These are all foods that supply essential nutrients to help you on your baby-making journey; B vitamins, Vitamin A, Vitamin C, folate, calcium, healthy fats. These are all building blocks of a fertile body; they help improve the quality of your precious egg cells, and help regulate your hormones and your ovulation. As I've shared with you before, irregularities with ovulation are the leading cause of female infertility.
One of my favorite things to eat in the autumn, are soups, and with all the plentiful foods available at this time of year, there's no shortage of awesome soups you can make.   One of my favorite things about soups is how nourishing they are, and warming foods like soups are awesome to eat during IVF treatment, because they nourish and prepare your uterine lining for implantation of a fertilized embryo.
Today I'm sharing with you one of my very favorite soups. It's fairly light, so perfect for autumn evenings that are crisp but not too cold. It's easy to make, chock full of healthy goodness, and tastes great – a winner in my book. I love how I feel after eating this soup: satisfied but not too full, warm, happy and thoroughly nourished.
Two Bean and Kale Soup
Ingredients:
1 Tbsp extra virgin olive oil
1 yellow onion, chopped
3-4 cloves garlic, minced
2 stalks celery, chopped
3 carrots, peeled and chopped
7 cups chopped kale, stems removed (note: this looks like a lot of kale but it reduces a LOT when cooking, so trust me on this measurement!)
5 cups organic vegetable broth
2 15-oz cans no-salt added cannellini or other white beans, rinsed and drained
1 15-oz can no salt-added black beans, rinsed and drained
1 Tbsp red wine vinegar
½ tsp sea salt
½ tsp fresh ground pepper
1 tsp chopped fresh rosemary or pinch of dried rosemary
Directions:
Heat olive oil in large pot. Add onion, celery and carrot. Cook over medium heat until tender, about 6 minutes. Add garlic and ¼ teaspoon of the sea salt, cook another minute. Add 4 cups of the vegetable broth and kale. Bring to a boil; reduce heat, cover and simmer until kale is just tender and wilted, about 3 minutes.
In a blender or food processor, pulse the remaining cup of vegetable broth and one of the cans of cannellini beans, until smooth. Add the mixture to the pot, along with the other can of cannellini beans the can of black beans and the pepper. Bring to a boil, reduce heat and simmer for 5 minutes.   Add red wine vinegar, remaining sea salt, pepper and rosemary.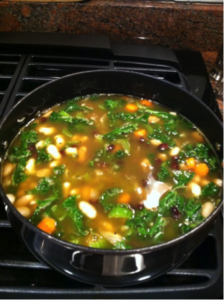 This is sheer fertile goodness in a bowl. As I've written before, kale and other leafy greens are fertility powerhouse foods.   They're rich in folate, Vitamins A, C and K, and potassium, all vital for hormone regulation and ovulation. Read more here!
Beans are another great food for boosting fertility, as they're a terrific source of protein. Studies have shown that women who get most of their protein from plant-based sources rather than from animals have less ovulatory-related infertility. Beans have also been known to help improve the quality of your follicles, where your eggs grow before ovulation. Learn more about the benefits of beans for your fertility here!
Can't wait to hear how you like this one after you give it a try! Leave me a comment below!
Big fertile love to you,
Stephanie xo