Celebrating our
20,000th baby


"A baby has a special way of adding joy to every single day!"


18 years. 20,000 babies Conceived
Let's make you a family!

Accredited by the prestigious American JCI Certification

Make an Appointment
Before Coming In
Make an Appointment
WORKING HOURS – SHARJAH
| | | |
| --- | --- | --- |
| Monday – Friday | – | 8:00 am – 4:00 pm |
| Saturday | – | 7:00 am – 12:00 pm |
| Sunday | – | Closed |
WORKING HOURS – JLT
| | | |
| --- | --- | --- |
| Monday – Friday | – | 9:00 am – 5:00 pm |
| Saturday | – | Closed |
| Sunday | – | 9:00 am – 1:30 pm |
OUR LOCATION : We are situated in Sharjah near Arab Mall and in Dubai JLT
View Location Maps
Before Coming In
The leading Infertility Hospital in the MENA region that truly believes in "making you a family".
Headed by Dr. Pankaj Shrivastav, world-renowned and pioneer in reproductive medicine.
Conceive Gynaecology & Fertility Hospital — the Best fertility clinic in Dubai , Sharjah and Abu Dhabi for IVF in UAE and excellence in fertility treatment in UAE
Established in July 2004, Conceive – The Gynaecology and Fertility Hospital is considered most successful and trusted fertility clinics in Dubai, UAE. Conceive Gynecology and Fertility Hospital has been assisting couples throughout the UAE with branches for IVF in Dubai, IVF in Sharjah and IVF in Abu Dhabi catering to the country's population easily and being accessible to all. For years the Conceive IVF clinics have helped thousands of married couples become families and conceive successful pregnancies. Our IVF clinic in Dubai and Best IVF clinic in Sharjah offer advanced fertility treatment under the guidance and compassionate care offered by the Medical Director and head of the Conceive IVF Hospital, Dr. Pankaj Shrivastav.
What makes us globally renowned and the best IVF Clinic in Dubai, UAE?
The Conceive IVF clinic was founded in Sharjah and Dubai by Dr. Pankaj Shrivastav. Dr. Pankaj Shrivastav is a pioneer in Reproductive Medicine and has been instrumental in path-breaking research work in PeSA and TESA for which he has been heralded on a global stage. He established the first IVF clinic in UAE in 1990 and was responsible for the conception and birth of the first in vitro baby in UAE. With more than 30 years of experience and expertise under his belt in IVF treatment in Dubai, Conceive Fertility Clinic Dubai is today the most distinguished and successful fertility clinic in Dubai, UAE.
Why choose IVF in Dubai?
Dr. Pankaj Shrivastav, apart from being world famous for his pioneering work in infertility treatment, along with his team have been instrumental and had the pleasure and privilege to be a part of over 20,000 babies and the success rates of Conceive IVF clinic for IVF in Dubai is unparalleled. You'll always be in the safest and kindest of healthcare hands with our staff who will guide you through the entire process of conception. Additionally, undergoing IVF in Sharjah and IVF in Dubai is competitively priced when compared to prices in the world and the cities are very easily accessible through large and well-established airports. Our staff will assist you with your travel and stay here as you receive high quality and excellent treatment at the best IVF clinic in Dubai. Get in touch with Conceive IVF clinic now to find out more and book your appointment.
"It is now almost 25 years that Dr Pankaj and I have known each other, both as friends as well as working colleagues. We started out as colleagues in London in1988, both learning the art and science of IVF when it was still in its infancy, and when the opportunity came to set up a new IVF unit in faraway Dubai, we both jumped at the chance to see a new country and take on a new challenge. I have fond memories of our times together when we set up the Fertility Centre in 1991 and ran it together till 1997 when I returned to Malaysia.. As the face of the unit, I recall the skepticism, difficulties and challenges you had to endure and overcome as you strived to develop it into a world class unit. And as the number of babies born from our efforts built up, so did the reputation. Fast forward another 15 years, and I see that you now have a fantastic setup, as good as any IVF centre worldwide. That no doubt sets a benchmark for other IVF clinics in region. And as we all know, it is the standard of the doctor, laboratory and staff that determines pregnancy rates for patients. By investing in the best equipment and training, hiring the best staff, and having so many years of experience in the field, I can see why you have maintained such high pregnancy rates continuously over so many years. I wish you continued success, which in turn means so many more babies for all the patients who come daily with so much hope and dreams in their eyes."
"When we met Dr. Pankaj 12 years ago, we were very touched by the kind of rapport he built up with us almost immediately. Then we realised that this is the kind of person he is, you meet him once and you feel like you have known him for years. He always has a smile on his face which makes you feel at ease without ever having met him before. He is a gentle man who loves to make other people really enjoy themselves.As a professional, there are very few words that can be used for a man whose life is dedicated to helping people start a family. He is one of the best at what he does, and the results of all his hard work are clear to see. There are so many families around us today that exist because he was there to guide them and help them start. About his wife and family they all are carrying the same quality of Dr. Pankaj especially. Dr.Nishi- she is a lovely woman just as joyous as the man himself. We enjoy so much of his company, we feel proud to have such a wonderful friend. Together they make a lovely family and we wish them the very best that life has to offer."
"Miracles do happen" I went to Conceive with no expectation and no knowledge. I walked in for an appointment with Dr. Pankaj and instantly he got me giggling and speaking my heart out to him with ease. He made me do a series of tests that deduced I was insulin resistant therefore the poor quality of eggs and therefore recurring miscarriages. Over the course of the year that I saw him and his team, they made me super comfortable and at the top and bottom end was the word Faith! An unbelievable man, with an unbelievable conviction and dedication and immense love towards all his patients and their "conceived babies"...God bless and lots of success always.
"Dr Pankaj, as well as being one of the top infertility specialists in the world, is a wonderful, altruistic human being. After going through a deeply demoralising experience at one the (so called) top IVF clinics in London, we had all but given up. We moved to Dubai for a career opportunity and to move on from the disappointment. In Dubai we heard about Dr Pankaj and made an appointment to see him. He was so positive, professional and took time to discuss everything with us; we felt immediately we were in the right hands. He told us our odds but seemed confident that we could have our longed for baby. After the first appointment, everything happened so quickly (unlike the UK where there were always interminable waits)... I was pregnant though ICSI within 2 months!! The whole time Dr Pankaj and his team were fantastic and the whole experience was as relaxed as infertility treatment can possibly be. The atmosphere at the clinic was always so positive and the staff efficient and caring. And the clinic`s impressive results speak for themselves!!"
"Dear Doctor, May God Blessings be with you always…. We are not able to express our feeling in words when we heard that we were going to become a father and mother after 7 years of our marriage life. We thank God for using Dr. Pankaj for shedding as a new light in our life by giving as Gods great gift "our lovely daughter Johanna" on 18 June 2011. We have visited several hospitals in India & abroad, but when we visited Conceive we felt that we had come to the right place. The doctor and his team were very friendly and the Clinic was very clean. We would like to thank doctor and his team for giving as the right treatment and for care and treat given to us like for a family member.
"I have known Dr. Pankaj for the last 20 years. During his time he pioneered and set up a dedicated Gynaecology and Fertility Hospital, aptly named "Conceive". This hospital is in the best location possible and is fully equipped to a very high standard. It is staffed with highly trained and dedicated professionals. It has won acclaim in the Emirates as well as other Gulf countries. The hospital also treats patients from many other countries. I have been a consultant Gynaecologist/Obstetrician in the U.A.E. for over 34 years. I can vouch for the excellent results of the treatment meted out at Conceive by Dr. Pankaj and his team. I refer all my infertility cases to Dr. Pankaj Shrivastav. He is an excellent human being and one could not ask for a better colleague and a dearer friend."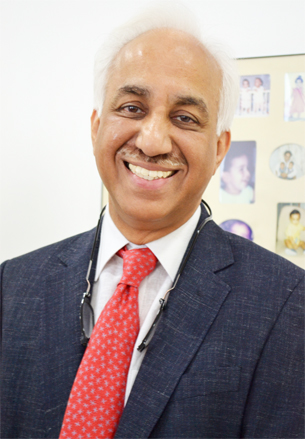 Dr. Pankaj Shrivastav
30 years experience
Speak to the man himself!
Ask the Doc