"Being there" for our friends – 3-step process!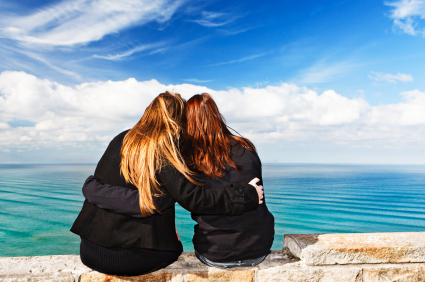 Cheers, dear readers,
I hope you are having an excellent week, my friends! It is a privilege to join you again for another installment of our Slow Swimmers & Fried Eggs blog (SS&FE), where we do our best to add value to you on your journey. My last two posts have been a bit on the darker side of the fence of dealing with infertility, touching on first when our emotions occasionally take us by surprise, and then the sobering facts about how struggling with infertility can affect our mental and emotional well-being backed by statistics.
I want to thank everyone for the thoughtful comments that have come in from these last two posts. It seems they have really resonated with quite a few people. Part of our efforts here at SS&FE are to help others feel not so alone on their own journey through the often dark storms of infertility. It seems we have been achieving that and that warms my heart. We also hope to provide valuable information that hopefully hits right at the time that you need it, or alternately creating a library of posts that you can refer to for when you are seeking information.
In this post, I wanted to touch on how to really support our friends and family through any difficulty really. Sometimes watching someone go through a situation as potentially devastating as infertility can leave one feeling helpless with very few tools to effectively help our loved ones. It can seem insurmountable and create disconnection between companions that used to feel close.
So I wanted to break it down into a very easy as well as easy to remember formula that anyone can use to support you on your journey, but also anyone reading this can apply to any loved one who is dealing with some unpleasant experiences and emotions.
We all have the desire to feel understood, heard, and like our presence on this earth and our efforts actually matter. Right? It's pretty simple and common sense. Yet it can be so easy to forget when we are in the moment. We see things through the lens of our own eyes, and our own feelings, judgments and experiences so easily. But it can really take some extra effort to step into someone else's shoes, REALLY listen to them (perhaps even hearing the things that they are not saying), and then come from a place of support and love.
Here's an easy three-step process to follow to help others feel heard, understood and valued.
Acknowledge – When we acknowledge what someone has said (by paraphrasing), we let them know we have really listened, and care about what they are saying.
Validate – We all have feelings and many feel guilty for having them. When we validate, we let others know they have the right to feel the way they do. Example: "That makes perfect sense that you feel that way. Anyone in your shoes would."
Appreciate – If you are asking something of someone that may feel uncomfortable for them (such as attending your baby shower event), show appreciation for their efforts, patience, and sacrifices that they are making for you. You can do this in thoughtful and kind words, or perhaps a hand-written and sincere thank you card. Realize how far a show of appreciation can be to bridging gaps and creating connection. This is HUGE!
Try it out! Feel free to write in the comments how successful you were. It can take time and practice to get used to it, but I have faith in you! You also will feel great knowing you helped a friend have a better day.
Please join me next week to hear more about my personal journey down the infertility path. I look forward to speaking with you. I wish you the best on your journey.
Warm regards,
Cathy